I don't believe I live in a country where Muslims are seen as ordinary human beings.  It's nearly impossible for the media to have a serious discussion of Islam in America; when they try, they're seen as "sympathizers."  Journalists with bigoted views toward Muslims are allowed to say whatever they want with impunity; just look at Bill O'Reilly, Marty Peretz, the cast of Fox News.  And it's only gotten worse since this summer, when the media machine lost its mind and decided that Pamela Geller was a reliable source, thereby catapulting the otherwise fairly-unknown "issue" of Park51 into the mainstream.
That's why I was fairly surprised when, last night, NPR fired commentator Juan Williams, for bigoted anti-Muslim remarks made during an appearance on Fox News.  Before delving into a discussion of whether or not NPR's decision was justified, let's examine what Williams said:
I mean, look, Bill, I'm not a bigot.  You know the kind of books I've written about the civil rights movement in this country. But when I get on a plane, I got to tell you, if I see people who are in Muslim garb and I think, you know, they are identifying themselves first and foremost as Muslims, I get worried. I get nervous.
The first question is whether or not Williams's comments were bigoted.  I would argue that yes, they were.  Surprisingly, I agree with Andrew Sullivan's assessment:
What percentage of traditionally garbed Muslims — I assume wearing a covered veil or some other indicator and being of darker skin — have committed acts of terror? . . . The literal defense of anti-Muslim bigotry on Fox is becoming endemic. It's disgusting.
What Williams has done is equate religiosity with terrorism which, as Sullivan describes, is the very definition of bigotry.  As Glenn Greenwald points out, Williams's comments were "suffused with falsehoods, not facts."  Every single Muslim who has thus far committed an act of terror on an airplane was wearing Western clothing, not "Muslim garb."  And wearing traditional clothing does not necessarily imply putting one's religion before other identifiers – hijab, for example, is (though there's certainly plenty of debate around this point) prescribed by Islam, therefore, it seeks to reason that anyone wearing it is simply fulfilling their religious duty.  A Muslim woman wearing hijab is just as normal as a Jew refusing pork: a part of the religion, not the be-all, end-all.  Not the foremost identifier.
To those defending Williams's comments, I also wonder where they draw the line.  One person argued to me that this was "different from racism," because "Muslims choose their religion."  I would beg to differ; the racialization of Muslims is an important concept to understand.  It's why Arab Christians and Sikhs suffer the same treatment in airports as Muslims.  You can't simply justify that by calling it "fear."
I also have to wonder what would have been the reaction if a commentator had said they fear for their children in the presence of priests, or that they move to the other side of the street when they encounter a black man.
But in the end, was NPR still right to fire Williams, based on that single incident?  Greenwald hits the nail on the head:
I'm not someone who believes that journalists should lose their jobs over controversial remarks, especially isolated, one-time comments.  But if that's going to be the prevailing standard, then I want to see it applied equally.
Over the course of the past year, we've witnessed the firings of Helen Thomas, Octavia Nasr, and Shirley Sherrod, all of whom were fired for sharing their personal beliefs, however controversial.  More recently, Rick Sanchez was fired from CNN for "criticizing his employer," because of a suggestion that CNN was run by Jews (oddly enough, NPR called it a result of bullying).
The firing of Juan Williams is, in the broader context, justified.  Fundamentally, however, should any of these people been fired?  A few people, such as journalism professor Jeff Jarvis, have suggested that it would be better to talk it out: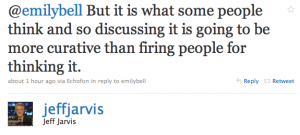 Jarvis unfortunately wouldn't answer my question as to whether or not he held the same opinion in respect to Thomas, Nasr, or Sanchez.
I think that's a question worth asking: Would it have been better to have an honest discussion of the origins of Israel than firing the White House's oldest correspondent?  Would it have been better to talk about why some people have respect for Mohammed Hussein Fadlallah?  Would it have been better to have a real conversation about whether or not Jews today are a persecuted minority?
Frankly, I would answer yes to every one of these questions.  Fundamentally, I don't believe that firing Thomas, Nasr, or Sanchez was the right move (nor Sherrod, of course, but let's stick to journalists for the purpose of this discussion).  It most certainly would have been better to hold honest discussions on tricky subjects, but every time, for fear of offense, there has been refusal to do so.
At the same time, I don't believe for a second that we can have a productive conversation about the American fear of Muslims in this country, let alone one lead by anyone at Fox News.  Judging by Williams's comments, I don't believe he's ever spent much time with Muslims, and I'm positive that O'Reilly hasn't.  Even the more sensible of American television commentators, Christiane Amanpour and Diane Sawyer, have been criticized heavily for their recent framing of discussions about Islam in America from both sides of the line.  Many people saw Amanpour's framing of the question ("should Americans fear Islam?") as feeding into the hands of the Right, while those on the Right saw her handling of the debate as biased in favor of Muslims.
So where do we go from here?  How can we have a reasonable discussion about Islam and Muslims in America when so many Americans are unwilling to admit that Islamophobia is not so different from racism? More importantly, how can we foster better understanding when so many Americans are unwilling to open their minds?