After a beautiful day spent mostly in the sun in my own neighborhood (more on that in a moment), I realized that, since moving here, I haven't dedicated any blogging time to the beautiful city in which I live. As most of you probably know, I moved here in May 2011 after being offered a job at the EFF and have spent at least half of the time since in the beautiful city of San Francisco (the other half is spent traveling, of course). When I was thinking about accepting the job, I had three people I needed to talk to: my mom, whom I knew would encourage me; my dad, whom I knew would be sad but would recognize the opportunity of a lifetime; and Anas, whom I wasn't sure about. Just one year before, Anas and I had flown out to Los Angeles then driven up the coast to SF over Christmas break. I knew he loved it here, but would he want to move? Fortunately, he immediately agreed.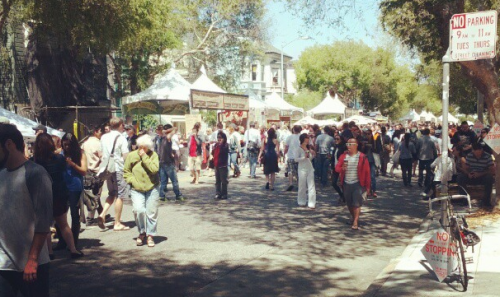 In any case, this weekend made clearer what it is I really love about living here. Overall, it is a feeling of living in a neighborhood despite being in such a large city: something I never really felt in Boston. On the micro-level, though, it's the utilization of the street. From the hordes of bicyclists to the parklets, San Francisco's streets and sidewalks (and especially those in the Mission) are constantly used, and not just by cars. This is never more apparent, however, then when there's a street fair.
And San Francisco is a city of street fairs! There's Sunday Streets, where a chunk of a neighborhood is blocked off to vehicular traffic and everyone from grandparents on foot to kids on rollerskates to a man with a bicycle-piano takes to the street to celebrate. There's Bay to Breakers, the cross-city foot race to which many show up in full costume. There's Carnaval, full of food, fun and even a parade. We even have our own cherry blossom festival.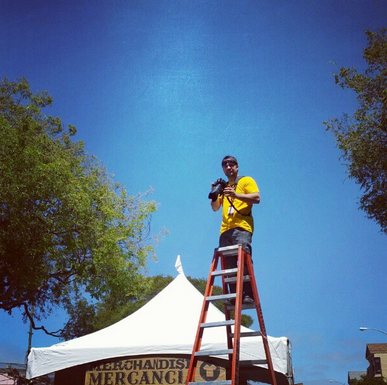 But my favorite so far, the one I just experienced this past weekend and which took place right outside of my house, is the San Francisco Street Food Fair, or SFSFF for short. The SFSFF took place on Folsom Street (though at a different end of the street from another famous fair) between 20th and 26th and presented noms from restaurants and other food merchants from all over the city. According to the website, the SFSFF attracts more than 80,000 people! That's a lot of food, man.
Along with two partners in crime, I attacked the feast with fervor, starting with a pork tamal at 21st, topped off with a cold glass of mint lemonade from Heirloom Cafe (whose stand was outside of their actual location at 21st and Folsom). Later, I stopped by Three Twins' ice cream station for a bittersweet chocolate cup. I lingered at the Love & Hummus station briefly, making a note to pick up a jar next time I was at the supermarket.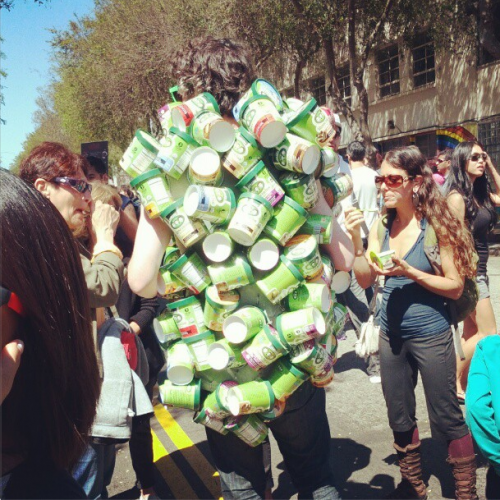 Back in the evening, we wandered the length before settling on crepes from Delicioso Creperie, followed by some ramen (source unknown) for Parker. We were going to hit up the bars (bars!), one of which was held in the playground on my street, but alas, they closed too early (what kind of last call is at 6:15pm?!). Instead, I grabbed a final tamal before heading in.
Though I was definitely stuffed by the time I made it home, the nibbling made possible by the SFSFF was totally worth it. Most stations had a "little bite" for $3 and a big bite for $8, but I only took advantage of the former, hoping to expand my food knowledge. All in all, a lovely day.
Here are a bunch more SF street fairs to check out. What's your favorite?