Update: Here is the response I got from ExactTarget: "Thank you for contacting ExactTarget to report this issue. We have reached out to the sender to investigate and we can assure you that messages to your address from this account will cease. Please let me know if you have any further questions. I am happy to help."
I've definitely complained before about the Obama campaign's emails—which I did not sign up for—making their way to my inbox. But in the case of Obama, I can understand:  I donate to all sorts of organizations (like Planned Parenthood, which definitely shares donor data) that are in line with Obama's proposed domestic policies, so while I find it obnoxious that those organizations are selling my info to a political candidate, I get it.
Romney, on the other hand, has nothing in common with causes I donate to.  What makes this even weirder is that the two email addresses the campaign has targeted are publicly available ones that I never use to sign up for anything.  One is the address displayed on the contact page of this blog (thus far used solely for people contacting me from here) and the other is my work email address (used exclusively for…work).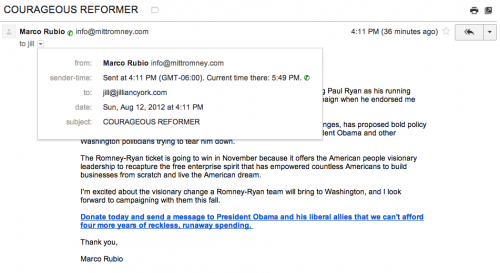 On Democratic Underground, others report the same phenomenon.
But here's where it gets really interesting…In the emails, there's a link to a privacy policy. Click it and you'll come to a page that notes that the company Romney is using, ExactTarget, has a strict Anti-Spam policy that states:
Our clients certify that they will use our software only to send emails to customers and prospects that have directly consented (opted-in) to receive email. They are forbidden to transmit unsolicited commercial email (spam) via our system. ExactTarget does not buy or sell email lists, nor do we allow our clients to use purchased or harvested email lists (see below).
I called the company and the poor customer service rep I spoke with said he'd never encountered an issue like this, but told me to forward the email to help [at] exacttarget [dot] com. I suggest that anyone receiving this emails without having signed up do the same; the company's policy notes that "repeat violators" will have their use of the service revoked.
A piece in the UK's Daily Mail states that the Obama campaign has begun to use unprecedented data mining techniques to target potential donors and voters.  At least, I presume, they've done it right.  The fact that the Romney campaign is targeting anyone and everyone leads me to believe that in their efforts to catch up, they simply began targeting…well, anyone and everyone.