Not too long ago, at the late end of a conference day in some faraway country, I was having a beer with a journalist whose work (and choice of journalistic employers) I respect.  Palestine being much the topic of the day, our conversation started there and quickly evolved into media bias and American perceptions of the Middle East, Arabs, and Muslims.
Though we tended to agree on media biases for the most part, my counterpart felt that human perception, American perception, was not so skewed.  He explained that, in his experience, mostly in the Midwest, he'd never come across anti-Arab or anti-Muslim rhetoric; that people were more likely to be completely ignorant of the Israeli-Palestinian issue than take one side or the other, and that he thought I was taking it too far.
I thought about his words for a long time; he was honest about his experience, and his truth wasn't that far from mine: Neither growing up, nor now, have I heard many anti-Muslim sentiments. Sure, I've heard the ol' "free the women from the veil" rhetoric, and support for the war, but I can't say I've ever seen firsthand the kinds of sentiment we're now seeing in the media.   That's what makes it so shocking to me.
One in five Americans thinks Obama is a Muslim. 61% oppose an Islamic cultural center in an historically Muslim neighborhood. 56% view Islam unfavorably. Three months after that particular conversation in that faraway land, I'm left wondering: Who are these people? Three months after that evening, and I don't think my conversation partner could have been more wrong.
"Islamophobia" was an accurate term immediately after 9/11.  However unjustified, people were afraid, and Islam was an easy target.  There were lots of questions from many different people, myself included, about what had caused people do something so horrific.  The study of Arabic immediately began to increase in the U.S.  Study abroad programs to the Middle East and North Africa picked up rather quickly (I did mine in 2004, just three years later).  People wanted to understand (they also wanted to join forces with the government against our "enemies," but there's only so much one can fit into a single blog post).
And then a curious thing happened: The word "jihad" seemed to enter everyone's vocabulary.  Suddenly everyone was an expert on Islam, and the more you expressed hatred of it, the further you seemed to go in counterterrorism circles, journalism (see: Fox), and conservative politics (see: most of 'em).
Cut to 2010, and with the simultaneous dumbing down of America comes the rapidly increasing hatred toward Muslims, most of which can be deemed straight up racism. The identity of "Muslim" has always been a fairly racialized one, applying in the United States mainly to Arab, South Asian, and Black communities, and taking on racial characteristics (the inimitable Fatemeh Fakhraie has an excellent piece on the racialization of Muslims here). Muslims are painted in the media with one brush: they are the turbaned or veiled brown-skinned Other, shouting in the (Arab) street. They are dirty-footed brown skinned children lobbing rocks at the civilized (insert-your-country-here) military. Muslim identity in the United States (and certainly elsewhere) has become racialized and the sentiments expressed against Muslims of late is racism.
Thus, what's happening today can no longer be described as "Islamophobia", it is no longer an accurate term. People aren't scared of Muslims, they flat-out hate them. They hear shrieks from the likes of Sarah Palin and Pamela Geller and come running, machetes "blood-dripped" "Sharia" signs in hand, ready to "fight the good fight."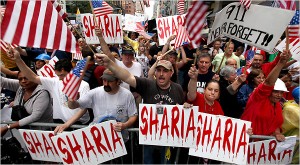 But what exactly are these people fighting? Sharia? Islamic values? Brown people? Whatever Fox news told them to? In one photograph, a protester is seen wearing a Confederate flag on his shirt, a fact which leads me to believe that a) these protesters are not New Yorkers and b) they're, as I said before, just plain racist.
As Glenn Greenwald so aptly puts it, this "mosque" debate is not simply a distraction. Rather, it is bringing to light vicious hostilities that a large percentage of the American public holds toward Muslims. As Greenwald says, "The Park51 conflict is driven by, and reflective of, a pervasive animosity toward a religious minority — one that has serious implications for how we conduct ourselves both domestically and internationally."
I leave you not with my own thoughts (which are, in sum: I support my Muslim brothers and sisters and fear for my country) but with the words of none other than Dick Cavett, whose New York Times column left a smile on my face:
I remain amazed and really, sincerely, want to understand this. What can it be that is faulty in so many people's thought processes, their ethics, their education, their experience of life, their understanding of their country, their what-have-you that blinds them to the fact that you can't simultaneously maintain that you have nothing against members of any religion but are willing to penalize members of this one? Can you help me with this?