As of July 26 at 8:17 DST, I can now create pages with the word "Palestinian" in them. Congrats–all of your contact messages to Facebook clearly worked.
Note: I had no idea this post was going to get as much attention as it did.  Regardless, readers, I am not implying some vast Facebook conspiracy against Palestinians, just demonstrating yet another example of Facebook's inconsistency, lack of attention to human rights, and lack of appeals processes.  New readers: There's a history here; you may want to check the archives or read this post.
I was surprised, but a little skeptical, this morning when I read a blog post stating that Facebook is blocking the word "Palestinian" from its Pages.  After all, a search for "Palestinian" brings back a number of already created Pages.  Here's what the blogger wrote:
I thought it might be a good idea to make a Facebook page for Palestinian Refugee ResearchNet—a straight-forward thing to do, right? Apparently not, since it seems the very word Palestinian may "violate or page guidelines or contain a word or phrase that is blocked"……A mistake, perhaps? Well, Afghan Refugee ResearchNet is OK. So too is DR Congo RefugeeResearchNet. No threats to innocent Facebook users lurking in those terms, it seems…

…Are Palestinians the only group so banned? Well, not really… after a little fiddling around, I discovered that al-Qaida Refugee ResearchNet and Nazi Refugee ResearchNet are banned too.

It does seem a bit odd, however, that a population of up to 12 million people, receiving more than a billion dollars in international aid, recognized by the UN, and enjoying a degree of formal diplomatic recognition from the United States—is placed in the same banned category as Nazis and al-Qaida.
Odd, indeed.  I decided to try it for myself, with the terms "Palestinian Refugee ResearchNet," "Palestinian Folklore," and "Palestinian Music".  Nada.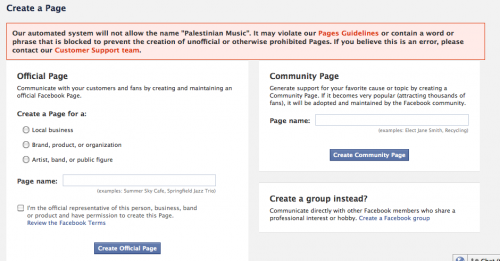 Of course, "Israeli Music," "Israeli Folklore" and "Israeli Refugee ResearchNet" all created no problems.
(see more screenshots of different keyword combinations here)
What is Facebook trying to accomplish by eliminating page creation for a marginalized population?  I would guess that they were trying to prevent abuse of some kind (e.g., pages set up to demean a certain group), but I can't imagine what kind of abuse would affect Palestinians and not, for example, Israelis.
In any case, as usual, Facebook does not have a strong customer support team to handle complaints about this, nor do they seem to care.  After all, this was their response to the blogger who first documented this:
Unfortunately, we cannot process this request. Your Page name must comply with the following standards:

Accurately and concisely represent a musician, public figure, business or other organization
Not contain terms or phrases that may be abusive
Not be excessively long
Not contain variations of "Facebook"

If you believe your Page name fits within these guidelines, please respond to this email and we will re-evaluate your request.
Again, activists, I would advise you to stop using Facebook.
More clarification for you skimmers:
1) This affects PAGES, not GROUPS.
2) The term that is blocked is "Palestinian," not "Palestine."
3) There are 1,200 existing groups with "Palestinian," suggesting that the word was blacklisted recently.