By now you've probably heard about the continuing saga of #amazonfail. Even if you're not a Twitter user, or couldn't care less about LGBT books and their Amazon.com rankings, the term has no doubt entered your lexicon.
What you probably haven't heard about, however, is the short-lived #linkedinfail that happened when business-themed social networking service LinkedIn accidentally cut off their thousands of Syrian users in an effort to enforce U.S. sanctions on proprietary software. The brief debacle was covered on Global Voices Advocacy, The Huffington Post (by yours truly), and in a number of Syrian blogs. Twitter users tweeted the heck of out #linkedinfail and #boycottlinkedin for a few hours, until kluo, who happens to be Kay Luo, Senior Director of Corporate Communications for LinkedIn (or as she refers to herself, LinkedIn employee #99) contacted me and others on Twitter to find out what was going on. After a few short back-and-forths, she announced that the deletion of Syrian user accounts was in fact an error and would be fixed. She asked me to email her.
You can imagine my surprise when, five minutes after emailing her, my phone rang (at 12:30 am). It was indeed Ms. Luo herself, calling to personally apologize for the error and let me know that LinkedIn would be issuing a statement shortly. Contained in this Global Voices Advocacy post, the statement reads:
"Some changes made to our site recently resulted in Syrian users being unable to access LinkedIn. In looking into this matter, it has come to our attention that human error led to over compliance with respect to export controls. This issue is being addressed tonight and service to our Syrian users should be restored shortly."
I was of course quite pleased, but then Ms. Luo took it a step further and reached out to a few Syrian bloggers who were affected by the error. She also gave me a pretty cool shoutout on Twitter, which I am not too cool to reproduce here: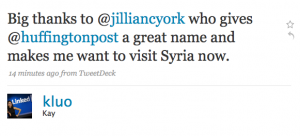 So while Amazon.com is languishing in their customer care, LinkedIn has proven that it is the better company; not only did it fix the problem in a timely manner, but it used good old-fashioned common sense and kindness to resolve the issue in a way that makes (nearly) everyone happy.
Kudos to LinkedIn, for doing the right thing.