I call myself, sometimes with tongue firmly placed in cheek, a "combatant of censorship." My country (the United States for those of you playing along at home) has a long and sordid history of censorship to rival any other: From Puritan New England to the banning of books as varied as Huckleberry Finn and Mein Kampf, the U.S. has long led the so-called "free world" in censorship. And now, this insidious little thing called "hate speech" threatens to plague us again.
For those of you who think I'm kidding – I'm not. Though I am no proponent of using such speech, and I recognize the right of a blogger, newspaper, school, or company to curtail it on its own grounds, I stand firm in my position that legislating against "hate speech" is a very slippery slope. Part of the problem, of course, is the definition itself:
Hate speech is a term for speech intended to degrade person or group of people based on their race, gender, age, ethnicity, nationality, religion, sexual orientation, gender identity, disability, language ability, ideology, social class, occupation, appearance (height, weight, hair color, etc.), mental capacity, and any other distinction that might be considered by some as a liability.
Rather inclusive, no? There are many points and opinions of my own that I could offer here, but instead, I'll present three examples from popular culture and society. Do with them what you will, but by all means, discuss!
Just a warning before you click: I have taken some images of specific Facebook groups and online situations, and used a variety of words that are considered highly offensive to some people.  I've tried to present a wide variety as not to seem as though I'm picking on any one group…click at your own risk.
1. Reclamation of terms: Nigger. Cunt. Faggot. All examples of words that have been used to degrade, demean, and otherwise verbally injure members of particular minority groups.  Also all examples of works that are being reclaimed by those same groups.  Nigger, perhaps one of the most vilifying words of 20th century America, now peppers street vocabulary.  Dave Chappelle does comedy sketches on its use.  Though Black Americans' views differ widely on the subject, the general agreement is that it's not okay for use outside the community.  Hate speech or reclaimed word?  Cunt, while common slang in Britain, was one of the more offensive terms used against women in the United States (and still is to many), until it was reclaimed in the Vagina Monologues.  Hate speech?  Faggot, queer, and homo, to varying degrees, have all become part of the gay American lexicon.  Hate speech?
2. Hating the Inanimate: There is a questionable divide between what you can hate and what you can't.  An all-too-obvious example from current events is the conflict between Israel and Palestine, which puts people on the defensive like nothing else.  A common issue within this conflict is the question of whether or not there's a difference between hating Israel and hating Jews, or hating Zionism and being anti-Semitic.  Jewish advocacy group Jewish Internet Defense Force has, of late, been pushing Facebook to remove certain groups based on the "fact" that they promote hate.  Their site seems to be down, but the variety of groups they oppose include one entitled "Hate Israel," and several that are simply in support of Hamas and Hezbollah, as well as others that ask members to "hate Jews" or "annihilate Israel."  The question is: Are all of these groups created equal?  A few examples: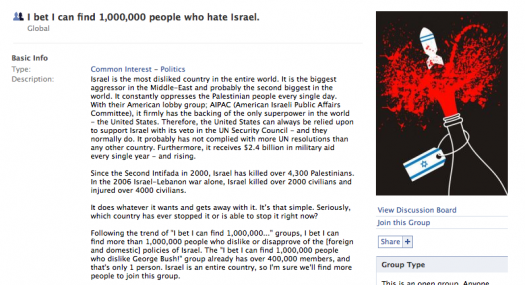 Is this hate speech, tasteless, or justified? Is this equal to the group below?

To some, the two above examples are equal.  To others, they're extremely different.  One opposes a regime, a government; the other opposes a religion (or as some might argue, a race or a tribe of people).  What about the example below?  Is that hate speech?

Texas is a state, not a country comprising a group of specific people, however, the language used in the group's description and logo could constitute hate speech.  What do you think?
3. The Freedom to Argue, Religiously Speaking: If a layman says "gays are evil," is it any different than if a leader of the church says it?  On the contrary, is it permissible for a pastor, priest, or imam to argue against homosexuality based on religious (Biblical or Qur'anic) arguments?  We live in a time of relative equality, but there are still people of every faith who believe that women are best off in the kitchen, or raising children.  If a religious argument is made to that effect, does it demean women?  Or is it taken in the tradition of centuries of following religious norms?
If anything, it seems to me that upon reviewing these cases, it is even less clear what constitutes hate speech and what should be done about it.  Do we want a nanny state where an insult becomes a crime?  On the contrary, do we want minorities to suffer by the words of the majority?
Please share your thoughts.