I've talked a lot about Twitter here lately.  Everyone is talking about Twitter, even people who don't use it.  The fact is, Twitter has invaded our lives; not just the lives of the digerati, but those of students, moms, television personalities…even cats.  Rather than texting, we're tweeting.  Instead of blogging, we're tweeting.  Sometimes we're even tweeting about blogging.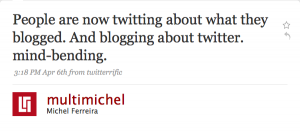 But when is tweeting too much?  A coworker, who is not on Twitter or Facebook and basically seems to eschew all technology except her laptop, is a bit skeeved out by the communication that happens on Twitter, mainly the fact that we are using Twitter to communicate with people we'd normally have regular conversations with.
I admit, I too have moments of frustration, such as when someone direct messages me to invite me somewhere (rather than sending an SMS or giving a phone call), but on the other hand, some of the ordinary communication that happens on Twitter is the best.  For example, this morning, I sent out a tweet exclaiming my excitement over a particular download: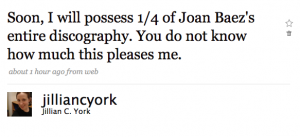 _My mother, rather than waiting until our next phone call or visit, then sent me a direct message which read, "Are you serious about Joan Baez? I have many old albums, I had no idea you even knew her." (hope you don't mind my sharing that, Mom!)
What's interesting here is that, in my narcissistic use of Twitter, my mom discovered something about me she didn't know before.  I've heard the same thing from my dad before about my blogging, incidentally.  In other words, rather than having a negative effect on my communication with my parents, the Internet has actually improved it – teaching my mother how to use Twitter gave us something fun we could share together; when my dad – who learned how to use the Internet last summer – calls me, we always have something new we read online to share with each other.
So, no.  I don't think Twitter, or any other social networking, is detrimental to my "real-life" relationships.  While I could do with a little less tweeting from bars (especially on Tuesday nights), I'm glad to have this type of communication throughout the day with my friends and loved ones that was just never available before.