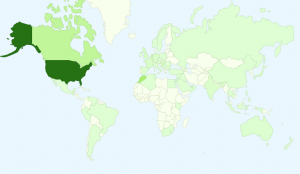 All Visitors Ever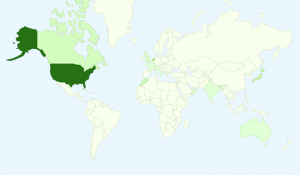 Visitors this week
As you can see, I'm missing very few countries!  Unfortunately, most of Africa has not yet visited my blog, and no -stan has set foot here.  I'd love to get at least one visitor from every country, eventually!
This week, visits from the United States, Morocco, and Japan have been heavy, with India, France, the UK, and Canada following.
All in all, the majority of my visitors actually come from Massachusetts.  I get between 500-600 visitors per month, about 75 of which are first-time visitors.  About 78% of my visitors are PC users.  Only 3 people have ever visited my blog on their iPhone (and I think I know who you are!)  This last bit gives me great satisfaction – well over 50% of my visitors browse with Firefox!