This is disturbing. Rapper 50 Cent spent some time in Morocco, that much I was aware of.  And then this photo (below) surfaced, leading me to have perhaps an ounce of respect for the man – he's clearly lunching in an average Moroccan home (if the Sidi Ali didn't tip you off, I don't know what would).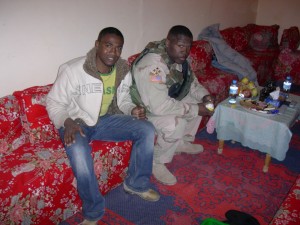 But then he has to go and say ignorant shit like this:
Some of my experiences while filming in Morocco really stuck with me. When you think of Morocco, you think of belly dancers and s**t, but it wasn't anything like that. The area we were in was war-torn. I took a lot of photos, and I ended up giving them to the (video game) developers
Really, fiddy? You think of belly dancers when you think of Morocco? Okay, I suppose that on the ignorance scale, that's only about a five, but what's up with Morocco as "war-torn?" I mean, aside from the Western Sahara (and I highly, highly doubt they'd let 50 Cent film a movie there), the last war in Morocco was in the '60s, and there are certainly no blatantly war-torn areas of the country!
Perhaps it was a war set left over from Black Hawk Down and 50 was just too stupid to realize it?