I would be remiss if I didn't mention how incredibly awesome last night's game was.  The Celtics beat the Lakers by THIRTY-NINE points, if you're not keeping track.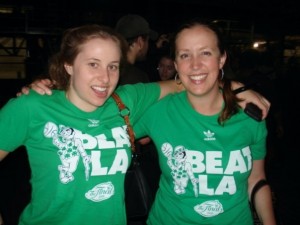 After taking some obligatory photographs near the Garden, we tried to get in to several bars along Canal Street.  When we realized that wouldn't be happening (Mayor Menino had apparently warned bar owners not to go over capacity, lest they face heavy penalties), we headed toward the North End and ended up watching from the venerable Cafe Paradiso on Hanover Street.
We finished the night by rallying on Canal St. for a bit until bottles began to be broken – that's when I hit the Green Line and busted out of there.  Tomorrow brings a parade and rally – can't wait.