Editor's note: After many years, I still get comments on this post asking for advice. My new project, Onlinecensorship.org, offers information on how to appeal Facebook and other companies' decisions, check it out.
Remember those days when users whose Facebook accounts had been disabled would receive a message stating that the decision could not be appealed? And then the user would have to e-mail Facebook in an attempt to explain their situation and in hopes that they might be the exception? I certainly do. I recall, last spring, being at a conference where a Facebook employee was actually present and receiving an e-mail from a small town journalist who, despite using a very 'vanilla' name, had found his account disabled, accused of using a pseudonym (he wasn't), and pinging Facebook to ask for help on his behalf because his own attempts had failed. In the end, the journalist got his account back, but not until he'd exhausted several processes.
I'm thrilled to say that those days are no longer.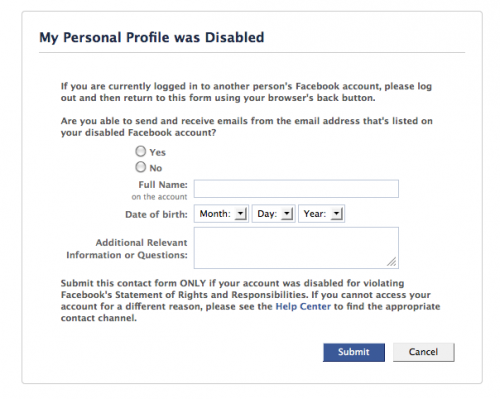 Recently, Facebook rolled out an easy-to-use appeals process, available via their help center for any user whose account has been disabled for a ToS violation. Though I can think of a number of improvements that could be made to the form itself (for example, why is there no space for one's profile URL or e-mail address? If a user can't get into his account, and his name's Michael Smith, how is Facebook going to identify him amongst his thousands of counterparts?), I'm glad that Facebook has listened to users and instituted a process by which they can appeal to get their accounts back.
I've also heard from a few users that Facebook is issuing warnings for things that previously might have gotten them kicked off the platform (such as "spamming," which Facebook still unfortunately seems to define at times by adding too many new friends at once – my own father once found his account locked for that odd violation). This is also good news, and I hope that in the future, breaking the rules (at least certain rules, anyway) will no longer result in account deactivation at all.