So, as you may well know by now that I've recently started a new job as Director for International Freedom of Expression at the Electronic Frontier Foundation in San Francisco (whew, that's a mouthful!). I certainly will be blogging, but as I'm still settling in, and only recently got the Internet set up in my apartment, please bear with me!
In the meantime, I have a few talks from last month that I've only just noticed are online and which I would love to share with you.
From re:publica in Berlin, where I spoke about policing content in the quasi-public sphere:
And from re:campaign (click for the video; can't embed) in Berlin, where I keynoted on the subject "Tools of Change: How Social Media Helped Spark the Arab Spring" (before you get all cynical, the first line of my talk was thus: "When I say "helped spark" I mean this was not a Twitter revolution, a Facebook revolution, a Google docs revolution…this was a people-powered revolution with a little help from the Internet.") Please note the laughter at my "too much coffee" comment.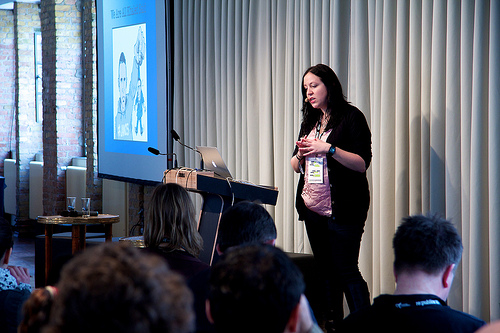 See that mic? It got caught in my hair no fewer than 10 times.
I was also interviewed by the re:campaign organizers after my interview.
And, while we're on the subject of great (ahem!) talks, if you're in San Francisco this Friday, come by the EFF's new space to see Sami Ben Gharbia talk about the role of social media in Tunisia's uprising!