Since the protests began in Tunisia two weeks ago, I've been following the events closely – mostly via Twitter, because the mainstream media was so late to catch on, and also via my Tunisian friends on Facebook (some of whom I know personally, others of whom I've never met).  In an event like this, with heavy Internet filtering and a lack of strong media coverage, it's often difficult to discern what's happening (just last night, false rumors of a coup spread like wildfire).  To that end, Tunisian blogger Lina Ben Mhenni has been providing photographs and updates from the ground, Tunisian blog Nawaat is updated nearly every hour, Brian Whitaker of the Guardian has been doing a great job on his personal blog sharing daily news roundups (today's here) and Al Jazeera English has consistently provided thorough coverage through its vast network, and despite an extremely eventful week in the region (the Sudan referendum, Algerian riots, and collapse of the Lebanese government are all competing with Tunisia for the media's attention).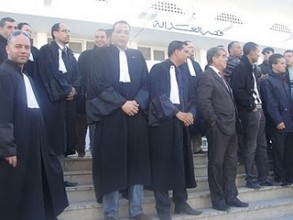 Along with Twitter and Facebook, I've received numerous missives from friends on the ground in Tunisia.  In the past 48 hours, those notes and letters have become increasingly desperate.  From one friend, an e-mail at 10pm Tunis time last night:
At this moment I am broke! I am lost between dictatorship and government violence on one side, and anarchy on the other side. And even though I am weaker than ever, I will wake up tomorrow with the same determination I had for the last two decades, the same determination my fellow Tunisians have, a determination to obtain my freedom and justice.
And from another, whose updates throughout the past day have made the human face of the uprisings so very real.  Earlier today, following the killings of a 14-year-old, a woman, and a professor (among many others, likely far more than the media is reporting), he wrote:
Actually i'm safe, Curfew Decreed in Tunisia, many dead today, among them a university professor and a woman and a 14 old child, it's crazy !!! and the most sad thing is that an american diplomat on aljazeera said "we invite the 2 parts to calm and we are neutral" :(( this is a free hand for criminals to kill us all, because in reality in tunisia there is no parts but objectively a massacre angainst civilians and a crimes against humanity, …..tonight with some friends we broke the Curfew, many are injured by police bullets, the same thing in many regions of the capital, in my nature and carachter i don't want to ask for help, even from my friends, but in this exact moment we need a great action we need your help, you can stop this !!!
Though it's certainly worth noting that not everyone in Tunisia shares the opinion that the US should step in, the vast majority of people I've spoken to–both from Tunisia and neighboring countries–feel that the United States' public position on Tunisia at present is abhorrent.
The same friend also shared the CV [PDF] of Hatem Bettahar, the professor who was killed today [French] by police during a demonstration in Douz.  According to Le Parisien, Bettahar was a French citizen who was in Tunisia staying with family.  There's something particularly heartbreaking about that; I don't think it's Bettahar's accomplishments, as impressive as they are, but the idea of a life cut mid-sentence, by a government that cares so little about its own people…which of course is compounded by the deafening silence from the establishment.
And tonight, on the phone with a Tunisian friend in California, whose phone calls to contacts in Tunisia have been filled with gunshots in the background, and who is solidly pleading for the US government to step in and, at the very least, denounce the shootings.
My Tunisian compatriots having said all that needs saying about the government, I'm going to throw my own barb at the American media (with exception, namely VOA, the Times' Robert Mackey, and FP), whose lack of coverage is absolutely unacceptable.  While the establishment media is busy chattering on about Sarah Palin's "blood libel" gaffe (hint: Palin's an idiot, move on), Tunisians are dying at the hands of their government and nobody seems to care, despite the obvious parallels to be drawn between the events in Tunisia and those in Iran in the summer of 2009.  As Iranian blogger Golnaz Esfandiari reminded me earlier today, "Iran's unrest received much more attention than Tunisia because of its 'rogue' status & controversial nuclear program." I've said it before and I'll say it again (and Golnaz agrees): The media doesn't work for the US government.
As I was writing this, Ethan Zuckerman posted a timely piece analyzing the media coverage of Tunisia thus far and expressing his own disappointment:
I don't know whether most people are missing the events in Tunisia because they don't speak French or Arabic, because they don't see the Mahgreb as significant as Iran, because they're tired of social media revolution stories or because they're mourning the tragedy in Tucson. I'm disappointed and frustrated, not just because I care deeply for Tunisian friends who have been working for justice in their country for years, but because real change in the world is a rare thing, and it's a shame that people would miss the chance to watch it unfold.
Tonight, my heart is with Tunisia, for a better tomorrow.