I am incredibly saddened and deeply enraged to report that my good friend Slim Amamou, Tunisian blogger and activist, was arrested yesterday (see @Malekk's announcement here).  After no one had heard from him for several hours, Slim posted his location to FourSquare to let his friends know where he was.  The location?  The Ministry of Interior.
I met Slim in December 2009 in Beirut, at the 2nd Arab Bloggers Workshop organized by Global Voices Advocacy and the Heinrich Boll foundation.  We immediately connected–over Al Maza, of course–and had many good conversations that week.  When I cried like an idiot at the end of the conference, Slim was the first to come over and hug me.  Over the past year, Slim has helped me immensely on a number of projects, often doing me huge favors by testing websites or explaining something technical to me.  He is one of those people endlessly saying "yes" to people, always helping friends.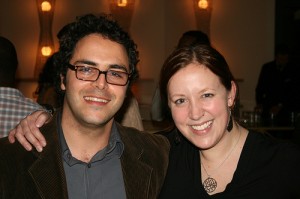 Last month, he was invited to speak at Yale and lucky for me, visited Cambridge for the afternoon.  I took him to the coffeehouse Algiers, which amused him as much as it did me.  He looked different, his hair was flying all over the place.  His colleague from Yale told me that he couldn't cut it, it had become his trademark in Tunisia.
Slim's "crime"?  Speaking openly, tirelessly, and fearlessly about censorship, as far as I know.  I call loudly on all of you to speak out against the pervasive Internet filtering in Tunisia, the arrests of journalists and of bloggers, and the lack of media attention being paid to these crimes, particularly in the United States (an ally of Tunisia).