In Turkey and in Thailand, and perhaps elsewhere, there are a few YouTube videos you can't see; videos in violation of local laws–in Turkey, insulting Ataturk, and in Thailand, lèse majesté. Though both governments filter their fair share of websites (and now, Turkey blocks YouTube as well), in this case, the filtering is not coming from governments, but from YouTube which, rather than risk being blocked entirely by the local government, chooses to geolocationally filter offending videos for the local populace. In 2008, the New York Times explained a bit of the process in Turkey:
Wong decided that Google, by using a technique called I.P. blocking, would prevent access to videos that clearly violated Turkish law, but only in Turkey. For a time, her solution seemed to satisfy the Turkish judges, who restored YouTube access.
This morning, reports have emerged from Israel suggesting that the same is happening there. A video, released yesterday and entitled "Video Killed Israeli PR", has been reported inaccessible by Israelis all morning: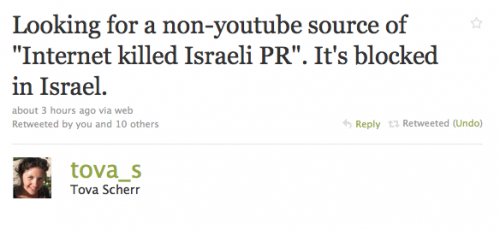 A closer look determines that the video, which parodies Israel's public relations, is perfectly accessible in the United States, and elsewhere…except in Israel. Ali Abunimah, who caught the story early on, writes:
After receiving an initial report that the video could not be viewed in Israel, I asked a contact there to check and he replied that when he attempted to view it on YouTube: "This video is not available in your country due to terms of use violation." The screenshot below sent by http://twitter.com/AbuKedem shows what happens when someone in Israel tries to view the video: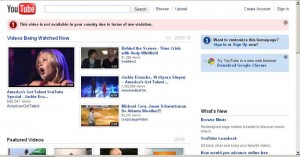 Though no word from YouTube just yet (a few folks have sent out e-mails), it seems very likely that YouTube has blocked the video within Israel at the request of the Israeli government. It is unclear whether or not the video violates local laws.