A couple of weeks ago, I made a pledge to teach someone how to blog or use Twitter.  The initiative was suggested in GV's internal e-mail list and everyone immediately embraced it – and so Valentine's Day 2009 became Social Media Kisses day.
I was willing, of course – the problem was that I couldn't think of anyone in my daily life who doesn't already blog or use Twitter.  After all, I do work at the Internet frontier.
But thanks to the great work from the rest of the GV community, it suddenly occurred to me this morning who to ask…My mom!  She's very busy, so I couldn't see her blogging, but she's also very Internet-savvy (and more knowledgeable about computer hardware and networks than I am), so I figured she could catch on quickly to Twitter.
And, of course, she did: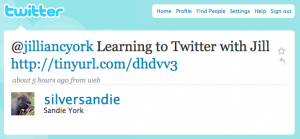 So go ahead – follow my mom on Twitter!  It certainly won't be the weirdest thing you've ever done.
And if you'd like to join the initiative, sign the pledge and tag your tweets #SMK (social media kisses).