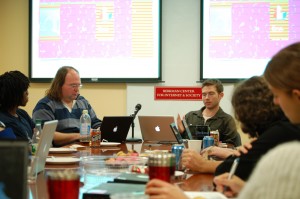 Yesterday's discussion at Berkman was on Rising Voices, a project which I am acquainted with of course because of Global Voices. David Sasaki, back (sort of) from a whirlwind trip around the globe, was present to share his experiences of the past 18 months with the project.
I'm guessing my readers are all familiar with Global Voices, but what is Rising Voices?  The idea of the project is to bring blogging and technology to communities underrepresented in the blogosphere.  Started in 2007, Rising Voices offers microgrants to select projects to teach their constitutents how to blog and use technology for the greater good.  Previous and ongoing projects include HiperBarrio outside of Medéllin, Colombia, Voces Bolivianas in El Alto, Bolivia, and FOKO in Antananarivo, Madagascar.  You can read more about the rest of the projects here.
Something that David said which struck me was that his friends often ask why he's spreading blogging even further, when there's already too much out there to read.  Sure, there is, but I can't say the quality of blogs is increasing.  And although the global blogosphere on the whole might be growing proportionally, as David so aptly pointed out, the majority of bloggers reside in cities, are middle class, have traveled.  The blogosphere is, in other words, filled with people you already know.
That, in a nutshell, is what's so great about Rising Voices.  The idea of taking something so simple as blogging into a rural or poor or simply disconnected community and offering it up for grabs is one thing, then seeing it through, witnessing the always-unfinished project blossom is the best thing.
I have one Rising Voices blogger in my blogroll.  We met last February, when she attended WeMedia as part of the Global Voices contingent, and gave a presentation as part of Voces Bolivianas. Cristina, who is from El Alto, Bolivia, had started blogging in Spanish like the other members of her project.  However, after attending WeMedia and seeing the interest she and the project garnered, she decided to start blogging in English as well.  Indigenous Bolivia is the end result, and a blog I look forward to reading with each new post.
Would I still be interested in Cristina if she only blogged in Spanish?  Of course!  But would I still read her blog?  Sadly, no, my level in the language is simply too low.  Language was another topic broached during yesterday's discussion.  So far, Rising Voices has reached bloggers in Spanish and French, because the greater GV team has enough speakers of those languages to translate.  FOKO has bloggers in Malagasy, but GV has perhaps the largest contingent of Malagasy translators in the world.  One concern of Rising Voices is the ability to reach a greater swath of the population, and that greater swath might not speak English.
I was most affected not by the language barrier or the stories of David's travels, but by this video which was shown:
…The idea of telling an unknown story. The idea of recording new histories. The idea that someday, the grandchildren of those kids in Medéllin will know more about their own community than was ever possible before. On a personal note, the idea of historical record has always eluded me; Looking back into records from say, 500 years ago, one realizes how little of the picture they are getting: Never again. If the Internet has enabled us to communicate more quickly, bank more easily, and watch television without a TV, it has, more importantly, allowed us to record microcosms, ensuring our community's place in history.
Clearly, Berkman and I are not the only ones to notice the significance of this project. Rising Voices is up for a Best of Blogs Award. The contest, put on by Deutsche Welle, is one of the most prestigious and most global blogging awards there is. Rising Voices is nominated in the Best Weblog category – go vote!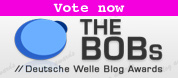 You can enjoy the webcast from yesterday's luncheon on the Berkman site.