Two days ago I declared throughout my workplace that "Steve Jobs and I are in a fight."
The premise, you ask? Not too long ago I purchased the brand new iPod Touch. I'd had my original 20GB iPod for nearly four years, and its battery had kicked it…twice. I wanted an iPhone but not the $100+ monthly contract that comes with it in the States.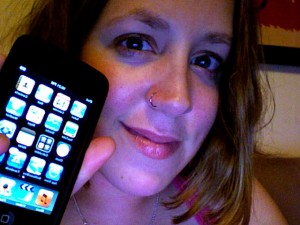 It was basically love at first sight. Accompanied by my favorite headphones, the iPod has not left my back pocket/hoodie pouch in weeks. I adore it. I play games with it, send e-mails from all over Cambridge (yay Harvard wi-fi), and of course, listen to lots and lots of music, very easily, on it.
Last week, while purchasing my morning cappuccino from my very favorite cafe, I decided to take advantage of their very awesome free wi-fi and download some new tracks. I settled on Lupe Fiasco's Food & Liquor (a seriously awesome album) and went on my merry way, listening to the new tunes on my 'pod, happy as a clam…
…Until a few hours later when, after plugging the 'pod into my MacBook and upgrading iTunes, Food and Liquor was nowhere to be found. I checked my Trash, I dug through iTunes on my computer…nothing. Then I got pissed.
Now, I should note that I don't sync my iPod with my MacBook. It doesn't make sense; I have over 25GB of music on the 'Book, and only 8GB of 'pod space. Silly. And iTunes doesn't make the method of transferring music purchased through the Touch obvious (although apparently it is quite easy).
Of course I complained, sending a proper complaint through Support as well as a cheeky one ("Hi, this is John Mayer here) to sjobs@mac.com. It took less than 24 hours to get a response (presumably due to the proper complaint):
Hello Jillian,

Greetings from California! I hope that this email greets you in good spirits. My name is Emily and I am happy to assist you until this issue is resolved to your satisfaction.

I understand that you purchased some items from the iTunes Wi-Fi Music Store and they were erased when you connected your iPod Touch to your computer to update it. I know how frustrating that is. I will be more than happy to help you with this today.

I have posted "Lupe Fiasco's Food & Liquor" to your account for you, and you can download it via your computer. First, make sure you are using the latest version of iTunes, which is available free of charge.
The rest of the e-mail was just as lovely and polite. Now, I'm sure it's just a form e-mail, but it sure beats Dunkin' Donuts' customer support. Rock on, Apple.