This morning, I learned that a friend, Creative Commoner, and colleague–in the most congenial sense of the word–has been detained in Syria since March 15. From freebassel.org:
On March 15, 2012, Bassel Khartabil was detained in a wave of arrests in the Mazzeh district of Damascus. Since then, his family has received no official explanation for his detention or information regarding his whereabouts. However, his family has recently learned from previous detainees at the security branch of Kafer Sousa, Damascus, that Bassel is being held at this location.

Bassel Khartabil, a Palestinian-born Syrian, 31, is a respected computer engineer specializing in open source software development, the type of contributions the Internet is built upon. He launched his career ten years ago in Syria, working as a technical director for a number of local companies on cultural projects like restoring Palmyra and Forward Syria Magazine.

Since his arrest, Bassel's valuable volunteer work, both in Syria and around the world, has been stopped. His absence has been painful for the communities that depend on him. In addition, his family, and his fiancée whom he was due to marry this past April, have had their lives put on hold.

Bassel Khartabil has been unjustly detained for nearly four months without trial or any legal charges being brought against him. — freebassel.org
I've only met Bassel once myself; he was part of our Arabloggers community, at the second meeting at Beirut in December 2009. We compared our collections of Creative Commons t-shirts and snapped a photo together: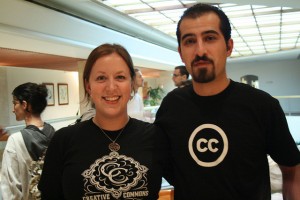 Last night, I had a macabre late night discussion with a friend who has experienced threats for her own exercise of free expression. She showed me photos in her iPhone of activists she'd met in the past, all of whom have since been detained. As it turns out, each photo was taken for the sole purpose of having a smiling photograph in case each activist was detained.
I can't say that I had the same foresight, but in hindsight it both intrigues and saddens me how many friends I made in that Beirut hotel, in that very same meeting, have been subject to serious threats–or worse–in the past year. My count right now exceeds five. I took photos of all of them.
As for Bassel…make noise. Talk to your journalist friends. Write about him. Don't let his bravery go forgotten.