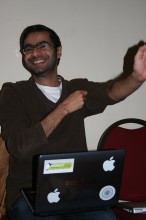 I woke up this morning, like many of my friends and colleagues, to the news that our good friend, Ali Abdulemam, had been arrested, for allegedly "publishing false news" on BahrainOnline.org, the site he founded and edits (the site appears to have gone down sometime this morning).
This is not the first time Ali has been arrested; in fact, there's a chance I wouldn't have met him were it not for that first arrest.  As a number of others have pointed out, this latest arrest isn't much of a surprise.  As my friend Nasser Weddady points out, "He is being targeted for merely being influential in a country that has not yet reconciled itself with its own people and their diversity."
Ali is a father of three, a free thinker, a blogger, a combatant of censorship (he's been a great supporter of one of the projects I work for, Herdict), and a friend.
It's been particularly disappointing to see how many people are taking the government line on this one, amidst a period of sectarian arrests across Bahrain.  As others have pointed out, this is not only a crackdown on Internet freedom, rather, it is one event in a period of political repression.
Please support Ali.  Tweet.  Blog.  Follow updates at http://freeabdulemam.wordpress.com/ (to be updated soon).  We will not be silent.