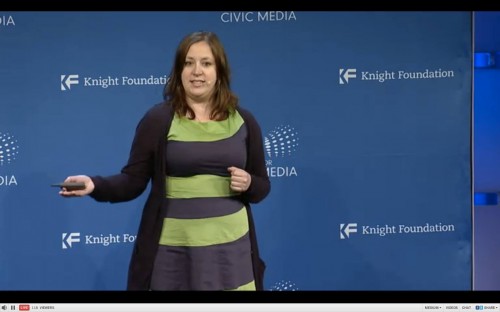 I'm really excited to say that a project I've been working on for two years, OnlineCensorship.org (currently in alpha), is one of this year's Knight News Challenge winners, along with an incredible set of projects. The project came about in late 2011, on my first trip to Palestine. I remember it clearly; I was chatting over a lunch of chicken and rice with Ramzi Jaber—whose Visualizing Palestine is making waves—about Facebook censoring Palestinian content, and he mentioned that he owned the domain OnlineCensorship.org. I don't remember the rest of that day's conversation, but emails between us starting in January 2012 show the project making rapid progress – we built it, found some great advisers to help and worked on iterating the questions. The only thing we didn't have was money.
For awhile, we worked closely with Rebecca MacKinnon to try to get funded, but as her project, Ranking Digital Rights (also a News Challenge winner!) got off the ground, and efforts at funding OC.org failed, the project went dormant for some time.
Now, I'm thrilled to say that Ramzi and I are ready to move it forward. The project will now be housed within EFF and will benefit from our vast expertise, with Visualizing Impact working alongside us, contributing their particular expertise to the design end of things. We're actively seeking additional advisers (email me!) and will be sharing more about our timeline starting in September.
Thank you so much to the Knight Foundation, EFF, Visualizing Impact, and many friends for your incredible support!
Further reading: