I miss my own father desperately.  Sometimes everything's fine, for months even, as I go about my independent life just as I did when he still walked this earth.  Other times—like when I accidentally dial his old mobile number and someone else picks up—not so much.  Sometimes it's the art of hiding my pain, other times it's the reality of moving onward.
But this father's day, as I think about my own lost dad, a tweet from a friend reminded me about all the dads—those I know and those I don't—"separated from their kids by injustice."  Injustice comes in many forms: There are those dads separated from their families by borders and those separated by forces within their own families.  And then there are those separated by prison barriers, some put behind bars by unjust laws, families torn apart.  I'm no expert on the broader topic, and there are plenty of other reports making the rounds today. Instead, I want to focus on the political prisoners whose cases I know well and follow closely, those separated from their families and communities because of what their governments fear.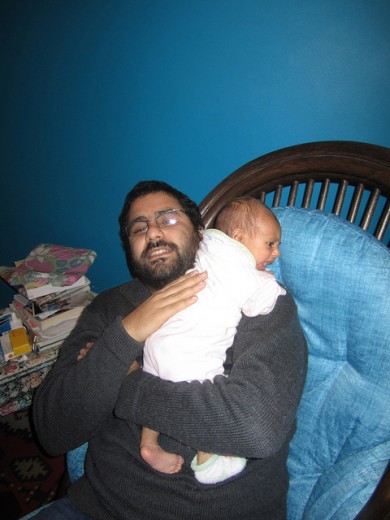 When Khaled was born, his father, Alaa, was in prison.  Just a month before that, he'd sat in my living room, opening packages filled with books and toys that he and his wife, Manal, had shipped to my house from Amazon.  When I took this photo, Khaled was still tiny, smaller than I'd personally ever seen a newborn, and Alaa had only been out of jail for a few weeks.
Earlier this year, as Khaled grew, Alaa went to jail once more, this time on unjust charges under an unjust law meant to stem the rising tide of protests.  Once again, he was released into the waiting arms of a loving family, his son now two years old.
This week he was arrested once again, after being sentenced to 15 years in absentia.  There will be an appeal, but in the meantime father and son are separated once again.
A father, a son, a letter
Separated only by Sudan, Ethiopia sits southeast of Egypt and there, another father marks his days in prison.  Eskinder Nega, imprisoned under Ethiopia's absurd anti-terror law, penned a letter to his son earlier this year.  In it, he wrote:
I have reluctantly become an absent father because I ache for what the French in the late 18th century expressed in three simple words: liberté, egalité, fraternité. Before the advent of my son in my life, I was a nonchalant prisoner of conscience on at least seven occasions. The blithe was hardly unnoticed by my incarcerators.
The desire to shelter one's children—or to not have any in the first place—can be strong for an activist whose life is filled with risks.  When Bassem Youssef took his show off the air, citing risks to his family's safety, many were quick to judge, calling him a coward.  But when the potential risk involves separation from family—or worse—who are we to judge?  On the flip side, neither should we judge when the risk is deemed worth taking.
Khaled, and Eskinder's young son, will not grow up without fathers.  The world will keep fighting for justice and for their respective release, but no matter what happens, these two young boys will grow up with heroes.