Sheherazade is a particularly lovely name, evocative of the legendary 1001 nights.  It was unfortunate, then, when news emerged that the former Assad aide newsanchor Barbara Walters had bent over backward helping held the name: Sheherazad Jaafari.
More unfortunate, however, is the low to which several prominent newspapers sunk in trying to cover the story.  Always trying to be quickest to scoop, a number of newspapers culled the Internet for images of Ms. Jaafari to use in their articles…and came up with the wrong one.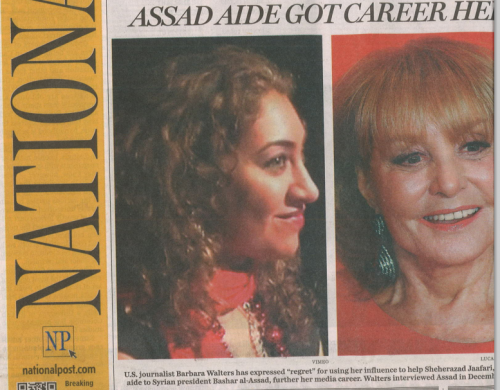 The Sheherazade Jafari in this image is not, in fact, the Assad aide but a PhD student at American University writing her dissertation on women and conflict resolution in Muslim-majority countries.  Canada's National Post* presumably found this Sheherazade, thought "Muslim, academic–good enough!" and went ahead with the photo.  The American University academic and human rights advocate–whom I spoke to before writing this post–tells me that her likeness has now turned up in place of the other Sheherazad's in a number of places on the web, and she's been contacted for stories by Russia Today, among others.  In one instance, a video of Sheherazade (the AU academic) received a comment raving: "hang her and her father…both are documented accomplices in crimes against humanity in Syria…ARREST them now!"
Surely, Ms. Jafari the academic (not the aide) will be able to move past this, explain the situation, and move forward with what by all accounts looks like a promising career.  Of her situation, she says:
Certainly, I'm not the only one who has experienced this – it's a problem of our Internet era, but also, I wonder, some continued racism/ignorance toward those with names that sound foreign in our Western context, as if the world of nearly 7 billion couldn't possibly have more than two Nedas or Sheherazades, and there's no need to fact check before rushing to make claims and publish an article.
Contrast Ms. Jafari's story with that of the tale of two Nedas: In 2009, Neda Agha-Soltan was brutally killed during the uprising in Tehran.  Once again, the media–in an attempt to get the story "done" quickly–identified the wrong woman, plastering the likeness of another Neda–Neda Soltani–all over the media.  In that case, however, the damage was far worse than that felt by Ms. Jafari: Neda Soltani–that is, the living Neda–received death threats, forcing her to seek asylum in Germany.  Amazingly, her image is still being used by various organizations, most notably the Israeli group StandWithUs, which still erroneously uses Soltani's image in their "apartheid" campaign**: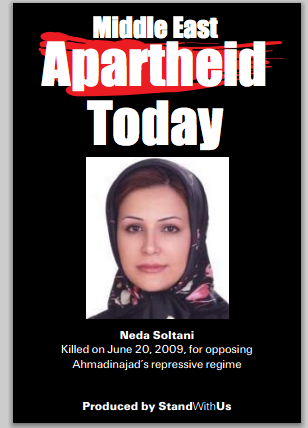 In my view, these errors are far more insidious than when the media (myself included) fell for the Gay Girl in Damascus story…in that case, there was little reason for journalists subsequent Katherine Marsh to suspect anything odd, including the use of another woman's photos (though my sympathy for Jelena Lecic obviously still stands).  These two cases, particularly the latest, are simply sloppy, shoddy "reporting".
I'm not familiar with other major incidents like these, and I'm thus inclined to side with Ms. Jafari when she suggests that ignorance toward those with foreign-sounding names is amongst the culprits here, along with sheer and utter laziness.
*The National Post changed the photo and issued a correction, but only after the print version had been released.
**I've attempted to contact them about this numerous times, to no avail.