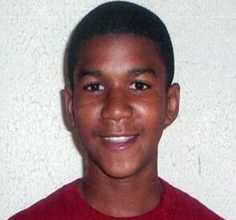 I first heard about Trayvon a few mornings ago in an airport lounge, on CNN. Thinking it was an older story that I'd somehow missed, I watched, shocked, but moved on…until a few days later when I began to see the petitions, the calls for protest, the plans for the Million Hoodie march and began reading up on the case.
Since then, I've simply been speechless.
Every element of this case horrifies me. The idea that a young boy would be chased down by an allegedly responsible adult member of a neighborhood watch and shot is one horror, but the lack of justice from the police charged with protecting young citizens, the continued excuses from the local police, and the continued silence from the White House is another. And lest you think it's not Obama's responsibility to comment, let's not forget about the Beer Summit. Apparently the fact that Trayvon Martin is just a black kid, and not a black Harvard professor, matters.
And yes, I realize I shouldn't be shocked per se, that variations of this are everyday occurrences in the United States, that racism hasn't died but simply migrated from overt to covert, and yet. And yet.
In any case, I have nothing new to say here. I am privileged. I have not experienced racism. I will instead direct you to this beautifully written post from my close friend Ahmed Shihab-Eldin, with the suggestion that you read it. You might also read up on what the ACLU is saying.