March 15, as it relates to Syria, holds two meanings for me. First, of course, it marks the anniversary of the beginning of the uprising that has claimed thousands of lives and caused so much damage — not just on the ground, but in the way it has divided the Syrian people, brother from brother. The second, however is personal: March 15, 2009, just happens to be the day I boarded a plane from Damascus back home, leaving Syria behind.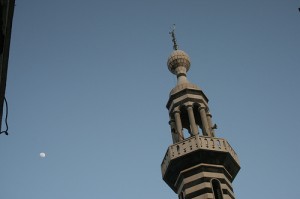 Mind you, I was only there a short time; I don't mean to imply that my leaving is torturous like that of an exile. Rather, I simply note the tears that ran down my face as I walked across the tarmac to the plane, with a heavy feeling like I was leaving forever. I was not, of course, I can say even more certainly now (what, three years later and with enough miles to go the second it's safe to do so), but I nonetheless had an ache in my chest that I'd never felt upon leaving anywhere else.
There was just…is just…something about Syria. I fell in love with it like no other, and thirty some-odd countries later, it still has my heart. For years I've read the blog posts of Yazan, Anas, and Maysaloon, for years I've dug through photos, but for the past three years I've simply dreamt of going back.
I want what's best for the Syrian people, for my friends. I believe that's freedom, but it is not I who decides how to get there.
Three years ago today I left Syria. One year ago today, Syria rose up. In one year, I can only hope I'll be back.