I've been playing with Google+ for the past two days, and so far, I'm really enjoying it. I'll be honest: There are features on Facebook that I currently still prefer, including the way my own Wall is displayed, as well as the way I look at photo albums. That said, I've been analyzing Google+'s rules, regulations, and guidelines to see how they stack up to Facebook's"
Identification
Let's start at an easy place: Naming. As I've written before, I find many aspects of Facebook's "real name" policy troubling, but perhaps the most troubling of all is the fact that individuals whose profiles have been disabled or frozen due to reports that s/he is using a pseudonym have often had to submit government identification to prove that isn't the case. I've also been frustrated with the fact that "known" pseudonyms (e.g., pen names, stage names) aren't allowed.
With that in mind, I can also say I've been doing a lot of thinking about the utility of pseudonymity over the past few months and, particularly in light of the events across the Arab world, remain less convinced than before that it's what activists really need, or more importantly, want. Egyptian friends in particular highlight the use of real names (full or partial) as part of their online success. (Note: Of course this doesn't change my view on anonymity as a legal choice.)
Google+ gets it right, marketing itself as a service for which identity is important. It does not require users to use their full legal name on the site (as Facebook does), nor would it remove the profile of an individual using a known pen name (such as Facebook did with Michael Anti). Rather, users are encouraged to "use the name that you commonly go by in daily life."
There's no indication that users will have to submit government ID on Google+ to prove their identity, but Google does suggest that users accused of impersonation may be required to do so. Unfortunately, as with Facebook, Google suggests it will ask for ID via e-mail.
Community Guidelines
For a long time, Facebook users had to suffer with only a legalese version of the lengthy TOS, and one that was only available in a few languages to boot. Not anymore: Earlier this year, Facebook rolled out its community standards, a document to help users understand the rules. Unsurprisingly, Google+ has also come out with a set of community standards; more surprisingly, they're incredibly similar to Facebook's own.
Both sets of standards cover the following topics: nudity and sexual material (neither allow it), hate speech (it's forbidden), copyright/intellectual property (both will respond to DMCA complaints), and phishing & spam (bad). Facebook also offers guidelines on theft vandalism, and fraud; bullying and harassment; the promotion of self-harm; graphic violence; and threats to others. In a way, these additional guidelines make sense: Facebook promotes itself as a tool for young people, allowing children as young as 13 on the service. And with all of its gaming features, that makes sense. Facebook also includes, of course, a guideline on identity.
Google+ so far seems geared toward an older crowd; that said, it does include an additional guideline on illegal activities, and its section on private and confidential information (don't share what's not yours) is worded more strongly (and is more specific) than Facebook's on the same.
I admit, I do prefer Google+'s standards on sight. They're worded clearly and offer more flexibility on interpretation. For example, Facebook's guideline on bullying and harassment states that "contacting strangers or people you've never met in person can be a form of harassment." This often results in users who contact or add too many other users "too quickly" (something activists certainly do) having their accounts frozen.
That said, I'm not sure yet how Google+ will interpret and enforce the rules. For example, does no nudity mean no images of breastfeeding (like on Facebook)? I somehow doubt it. Will the community policing measures ever result in automated takedowns? Will there be a warning system, and a strong appeals system? With the service so new, it remains to be seen.
Kudos to both: Google+'s community standards are available in 39 languages; Facebook's are translated to 30.
Community Policing
Both services employ community policing and rely on user reports to locate and identify content in violation of their TOS. As I've said, it's too early to judge how Google+ will enforce their TOS, but I will say that their process is simpler.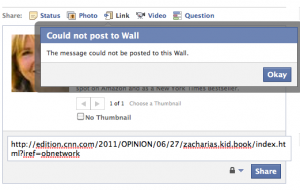 Whereas on Facebook, one can report any individual piece of content, it appears that Google+ only offers the ability to report a profile (correction: Google also allows you to report content). This is both good and problematic: Whereas the ability to report content can result in that content–rather than the person's profile–being removed, it also allows for a lot of petty nonsense. For example, if a link is repeatedly reported as offensive on Facebook, it seems that that others are automatically prevented from posting that same link, at least for a time. Unfortunately, this happens to me constantly; often the content is related to politics (especially, for some reason, Palestine), but sometimes it's something objectively innocuous, such as this CNN report.
The choices given for reporting are a bit different too: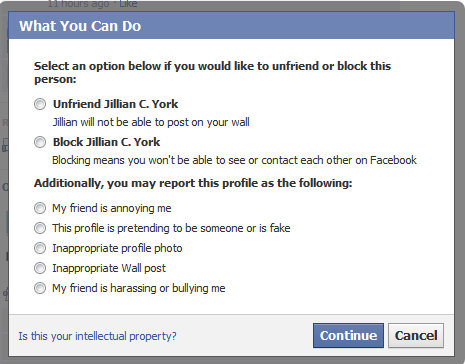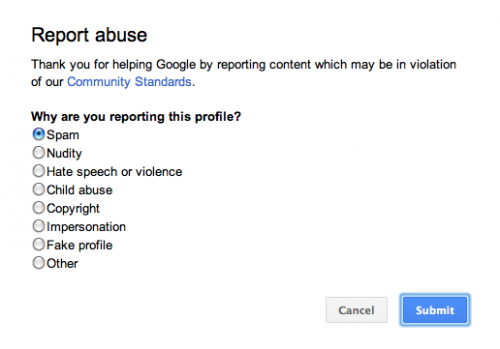 Overall, the two services provide similar community standards, for better or worse. What may be different is how they're enforced, and to what degree they're necessary, given each service's core user base, as well as the disparate privacy settings on the two platforms.