Facebook has long claimed that their community policing system cannot be gamed, and that pages are not automatically removed for TOS violations, despite evidence to the contrary. Today, more evidence, as famed critic and blogger Roger Ebert's Facebook Page is removed, allegedly for being "hateful, threatening, or obscene."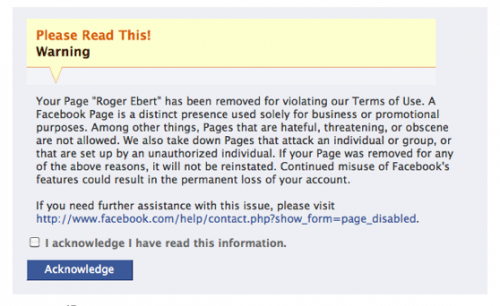 As Ebert writes, he was recently the subject of controversy after admonishing recently deceased Ryan Dunn for driving drunk. Though Ebert states he did not post to his Facebook wall about the controversy, he believes he was targeted by angry fans of Dunn's program Jackass.
As I've written before, I firmly believe that, at a certain number of reports, Facebook's systems "tip" in favor of the reporting, bringing down a Page or profile. While the company has denied that, I can't possibly come up with any alternative explanation for why Ebert's page–or Sarah Palin's page before it–would be removed.
Note: Once again, Facebook states that the Page was removed "in error." But why? What triggered that error? Utter incompetence or automated systems?