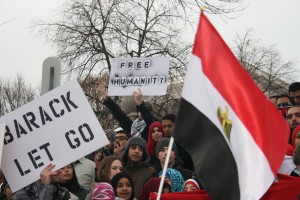 I went into Harvard Square this afternoon around 1:00 to join the protestors and take photos; seeing the hundred or so people gathered and ready to move, I asked what was happening and was told that an earlier delegation had already marched across Cambridge, through Central Square and into Boston, and were going to head down Boylston.  So, all hundred or so of us marched toward the T and took it to Park Street, then met up with the other crowd and marched back down Boylston through the Common, past the Capitol building and on to Government Center, ending at Fanueil Hall.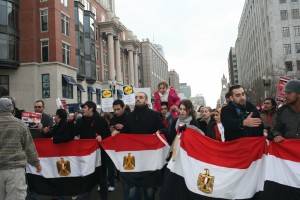 The crowd was mostly Egyptian, judging by the chants ("Muslim! Christian!  We're all Egyptian!"), with lots of the usual solidarity activists and the socialist crowd, as well as a strong contingent of students.  They were led mostly by a young man, but later an 8-year-old girl was given the megaphone and loudly called for an end to the regime as her mother beamed proudly next to her.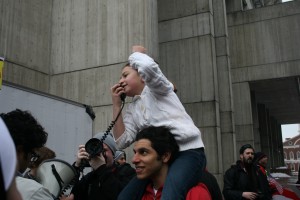 The rest of my photos are here; they're all Creative Commons licensed, so feel free to use them with attribution.