For the past year, I've written, incessantly perhaps, on the topic of account deactivation, particularly as it pertains to Facebook, the platform which could be considered the worst offender in this space, thanks to their "real name" policy.
Thanks to Doc Searls, I recently came across an example of account deactivation on Flickr; now, there have been previous shoutings of Flickr deletions–such as that of Maarten Dors, whose image of a child in Romania smoking a cigarette was taken down, along with the rest of his photos, back in 2007 (see comments below photo).  Dors successfully argued to Flickr that his photograph was meant to show poverty in Romania, and they reinstated his account; however, they were unable to restore all of the photographs (fortunately, Dors kept copies).  Flickr acknowledged their mistake, and offered to refund Dors' Pro account fees.
There are two important points from Dors' story that I want to reiterate before I move on: The first is that context is key.  Dors' photo probably did violate Flickr's terms as they were stated; as Flickr explained, no photos showing children under 18 smoking are allowed.  YouTube has similar policies, one of which resulted in the removal of a video that showed Tunisian children sniffing glue.  In both cases, however, the companies recognized that, in a certain context, showing such images is justifiable.
The second point is that Flickr is an American company.  In the comment thread of Dors' photo, several people pointed out that Flickr, based in the United States, is subject to US laws and while a child smoking might not be illegal in Romania, or China, the legal age in the United States is 18.  Though I would agree that in context, Dors did nothing wrong, I can see how an employee at Flickr, charged with policing content, might see the image and find cause for its removal.
Of course, there's a good solution for the context issue: Companies should provide for justification during the upload process; if a customer is aware that their content might under normal circumstances violate the company's TOS, they should have a space to explain why they're posting it regardless.  Exceptions are often made for art and activism; companies should allow for those arguments from the start.
Now, moving on to this latest Flickr case…
Photographer Deepa Praveen recently created the following image: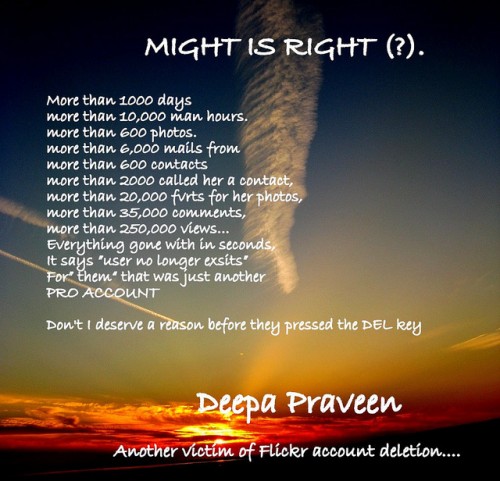 Deepa's account of the story, from what I've read here and was alerted to on Doc Searls' blog, is that Flickr deleted her account without warning or explanation.  I've contacted her for comment, and will update if I receive any.
Though it's certainly possible that Flickr sent her a message after the deletion, I contend that that isn't enough (and from everything I've read, it seems unlikely that she was sent prior warning).  Even Flickr admits that in some cases they don't give prior warning.
I find this unacceptable.  Whereas with Facebook, one can argue that you're not paying for a service, with Flickr, you often are.  Deepa Praveen was.  Maarten Dors was.  I would argue that, if I'm paying for a service, I deserve at least the opportunity to retrieve my photos before they're deleted from Flickr's database.  And while perhaps child pornography is an acceptable exception, "spam" is a pretty nebulous thing; Facebook often deletes accounts for "spam" when the user has simply added too many friends in one day (in fact, activists are frequently busted by Facebook for adding too many people in one day; usually, it's because they're trying to find local folks for some reason or another).  And the Flickr rep readily admits that child pornography, hacking, and spam are but three examples; what other examples might call for a deletion without warning?
Lastly, while I would like to point out that legally, Flickr hasn't done anything wrong, their nebulous community guidelines make their pattern of account deletion incredibly problematic.  Flickr users are required by the community guidelines to "play nice" (ah yes, the ol' "play nice"); "don't upload content that is illegal or prohibited" (illegal or prohibited where? Saudi Arabia?  Can I not show a woman's hair?); and "don't bore the brains out of other members" (whereupon they admit that they might just delete your account if you do).
Flickr, as part of Yahoo!, is a member of the Global Network Initiative (full disclosure: I don't work for the GNI, but my employer is a member, so technically, I've got a wee bit of bias here), so frankly, I'm a bit surprised that their terms continue to be so…well, vague.  They don't comment on individual accounts, but I would really love to know why Deepa Praveen, a paid user of the service with over 600 photos and 35,000(!) photo comments, doesn't deserve a public explanation.