Facebook has just produced a map visualizing pairs of friends across the globe; the map is visually stunning, and as the Guardian points out, it also shows huge gaps where Facebook isn't being used.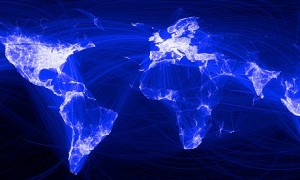 For some countries, the reasons are fairly obvious: Orkut is hugely popular in Brazil, and so it seeks to reason that Brazilians wanting to find their friends online would be better off doing so there. For other locales, the reasoning is less obvious: Could it be that Facebook doesn't offer a local language? Though the list of languages in which Facebook is offered is continuously growing, there are certainly gaps – Burmese, for example. Another missing variable is where Facebook is blocked: Iran, Syria, and China currently, though several other countries — including Pakistan and Bangladesh just this year — have blocked Facebook at some point. You can check out the OpenNet Initiative's research and maps of filtering of social network for more details.
Then there's the larger issue of access: Only three countries on the African continent (Egypt, Morocco, and Tunisia) have Internet penetration rates over 10%, and only Morocco has a rate over 30% (ITU places it at 41% for 2009). The map below, from Online Africa, illustrates the very real issue of disparities in Internet access across Africa: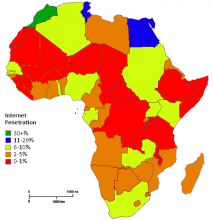 Of course, Africa isn't the only region where access is lacking; for more stats on Internet penetration, ITU stats are worth poring over.
So, while using or not using Facebook may simply be a choice in places like Brazil or Russia, in other locales the issue is not whether to use Facebook but whether access to the Internet is even an option.
Edit: And here's another piece discussing population as a factor in Russia.