When I first saw the poster for "Draw Mohammad Day," I admit, I was amused. In reaction to Comedy Central's decision to censor South Park, Seattle-based cartoonist Molly Norris had drawn up a poster asking people to draw the Prophet; the poster, below, was humorous and whimsical, with the Prophet depicted as a toaster or a teacup rather than a turban-wearing bomber (such as in the famous Danish cartoons).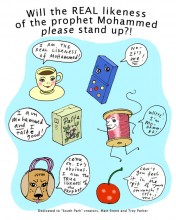 Since the initial campaign, a Facebook group and blog have been created, seemingly without Norris on board.  Following Pakistan's block on Facebook today, I decided to take a look at the blog to see what the reaction was.
Front and center, on the blog's header was that now-infamous depiction of Mohammad wearing a turban-shaped bomb.  The Facebook group was full of nastiness: depictions of the Prophet as a dog, slurs about Muslims and Islam, etc.
Now, in the case of the Mohammad cartoons, four years ago when it happened up till now, I will defend the cartoonists' right to draw what they please, no matter how repulsive I personally find it.  In that same vein, I defended Iran's Holocaust cartoon competition.
With that in mind, I'm incredibly disappointed with this new campaign.  Rather than calmly and peacefully defend free speech by whimsically portraying the Prophet as a teddy bear or a toaster, the group and blog's admins have chosen to provoke, thus alienating plenty of supporters of free speech who might otherwise have backed them.  The project is a work of immature Americans who feel that asserting their right to free speech–by any means necessary–is more important than showing an ounce of respect (and for that matter, dignity) by finding a middle ground.
Draw Mohammad Day is May 20.  I will not be participating.