I was sitting on the bus yesterday morning, reading with headphones in, hood up, lost in my own world, when the woman sitting next to me accidentally elbowed me. She apologized, then in a deep southern drawl, asked, "Whatcha readin'?" I, headphones, still in, flipped the book closed to show her the cover: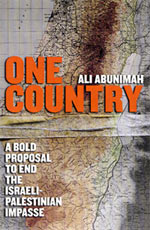 She paused to read it, then said, "Wow.  I think that's just so important.  It's like one group of people were treated like crap and bullied and then they turn around and do the same thing."  Her voice was loud, and in my typical public shyness, I could feel the eyes of everyone else on the bus burning into my skin.  I timidly responded, "I'm trying to learn everything I can."  She said, "Good for you!" then let me get back to my reading.
This book is not my first stop in learning about the history of Palestine and Israel, nor will it be the last–in fact, I read Abunimah's book a year ago; this is a re-read, an attempt to answer lingering questions.  It is not a simplistic book, whatsoever; Abunimah addresses each possible objection to the creation of one state built on equality and justice, then effectively counters every one.   His is a call for a peaceful solution, an end to violence from both sides.
For those of you to whom the idea one, equal state built on justice and equality, inclusive of Jewish Israelis and Arab Palestinians alike seems self-evident, it is still worth reading–For me, it's not a matter of being persuaded, but of gaining a more complete understanding of history and of the possible future.
But this post is not, by any stretch of the imagination, a book review, rather, it is a simple musing on a small encounter on a bus that surprised me.  I've ordered a second copy of the book, and if I run into that same woman on the bus again, I'll be handing it to her.