I'll make this one brief. If you're American, you ought to have voted by now. I have: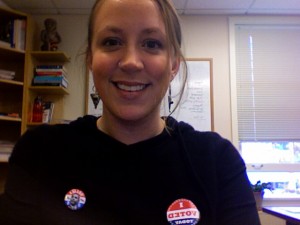 If you haven't, do it. If you have, here's a bunch of fun and interesting links to check out while you wait for the results to roll in:
–Voices without Votes: The baby that I will miss tremendously when all of this is over. We've been looking at global opinions on the U.S. elections for nearly nine months now, and not only is the archive tremendous, but we'll continue the project for a few more weeks. Check it out!
–The Booth and Beyond: The Global Impact of the 2008 Elections: a project of The Morningside Post, Columbia University's School of International and Public Affairs…they will be liveblogging the election until 12 am EST and taking comments.
–The New York Times is mapping election day words…fun stuff!
–Google is mapping the elections in all sorts of fun ways!
–The Daily Kos (of which I'm not typically a fan) has a fantastic photo essay on why we line up to vote.
And for good measure:
-A great little essay from my friend Hicham at The Moroccan Mirror. If you're interested in the Moroccan view of the US elections, this post by Ari Herzog for VwV has some great Moroccan reactions, as does this one from Claire Ulrich, and this one from me.