December 31, 2019. I preen in front of my mirror, dressed in an elegant 1920s-style faux-vintage loaner from a friend, then add the finishing touches—costume jewelry, a feathered headband, glitzy earrings. A friend swings by with her dog to pick me up, and we head to the suburbs for a rather adult party, planned to avoid the worst of Berlin's fireworks which, two years prior, had resulted in a favorite dress going up in flames, the fuse lit by a rambunctious six-year-old neighbor.
We ring in the new year with twelve or so of our closest friends, champagne flutes in hand, deeply exciting for the roaring '20s to begin anew. A few days later, I change my Twitter location to "Weimar Berlin." The following week, I attend a grungy-but-fabulous party in an unlicensed club in a squat that has a toilet but no sink, just a bottle of hand sanitizer and a sign on the door that tells partygoers to simply do their drugs on the dance floor. We stay out past dawn dancing, the sun streaming through gel-covered windows.
In late January, I take the train to Prague, where I've rented my favorite flat in the hopes of finishing my book. I On the way there, my throat grows itchy. By the time I arrive, I can't stop coughing. For the next few days I hole up in the flat writing, downing Robitussin, and trying not to hack up a lung. I can't sleep, but with the aid of fancy coffee supplied by the host, I manage to tap out fifty or so pages. I get the news that my old friend, Tunisian revolutionary Lina Ben Mhenni, has passed away, and I cry until a producer at Al Jazeera calls me and implores me to say a few words about her on TV. I do, choking back tears and coughs. I haven't brought an ounce of makeup on this trip and I look like hell. When I venture to the supermarket, I cover my mouth and nose with my scarf because my cough is so bad. On the train home, I sit alone in a car. I cancel a weekend trip to Barcelona to meet up with my partner, too sick to get off the sofa. But by the following Monday, I'm well enough to venture outside again.
On February 9, I go back to that club, this time armed with my own disinfectant wipes and hand sanitizer. I haven't heard of COVID-19 yet, and everything still seems possible in this vibrant city, despite the fact that my white blood cell count is growing by the week. You see, at this point I've had chronic leukemia for two and a half years, but I've managed to keep it a secret from all but my closest friends, despite my declining weight and swollen neck. You see, counterintuitively, you don't treat chronic leukemia until it gets bad enough, and so I'm a ticking time bomb, trying to make the most of my bad blood. Later that week, I make a short trip to Poland to eke out a few more pages. While I'm there, my doctor informs me—via SMS—that the cancer treatment I've been hoping for has been approved by the EU and that I should plan to start in April. I'm elated.
On the fifteenth, I arrive at the airport to fly to Doha for work, and am surprised when they hand me a first-class ticket. After wiping down all of the surfaces with a disinfectant towel as I always do, I settle in to watch movies on the large screen and order glass after glass of champagne. It's the most luxurious trip I've ever taken. When I arrive, they're taking temperatures and the staff are wearing masks. At this point, I've heard of COVID-19, but it seems like a faraway problem, just like H1N1 did even when I was living in Boston and the disease was taking down people around me. Still, with my weakened immune system, I take a free mask and sanitize my hands obsessively.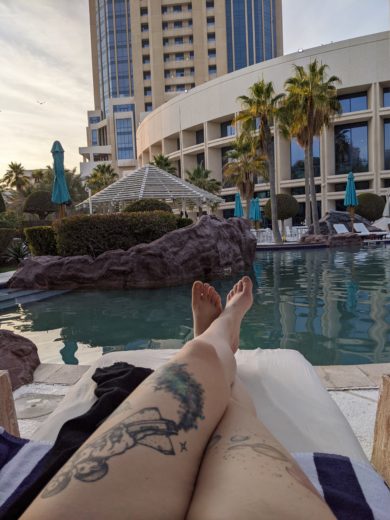 The conference is luxe, my hotel room even more so, and my friends are there. We spend ruthless amounts of money at the bar, smoke shisha with old friends from Al Jazeera, shop at the souks, and eat Lebanese food. When we hug goodbye, we assume we'll see each other the following month in Spain.
Back in Berlin, the burgeoning epidemic is barely discussed. I cat-sit for some friends and pound out thirty more pages. My sinuses are still acting up, and I have a lingering cough. I see a doctor, who refuses to prescribe antibiotics and gives me some steroid nasal spray. It doesn't help.
On February 26, I nervously board an EasyJet flight to Copenhagen. I'd hoped to take the train, but the timetable didn't work out. I wear a paper mask that I'd purchased in Taipei the previous November. When I arrive, I see others in the airport wearing masks. I'm glad I'm not the only one. I attend an event at the invitation of MEP Karen Melchior. When she arrives, we chitchat about COVID-19. With others, we talk about whether we should shake hands or not. I decide not to. Denmark has just registered its first case, and I'm nervous, but I make the most of my trip, exploring the city's sites and doing some shopping.
While I'm there, I talk to the friends for whom I'd been cat-sitting the week prior. They'd gone to Venice for Carnival, only to find that it had been canceled in light of an outbreak of COVID-19. They're anxious, and ask if they should cancel a party we've planned the following Saturday night. I suggest we take precautions – ribbons of different colors tied to our glasses, a small guestlist. We continue with our plans, and have a fantastic time.
On Monday, March second, my spidey sense is tingling. I book a haircut. My colleagues arrive on the fourth for a mini-retreat. We're all a little on-edge. On the tenth, against my own judgement, I keep a piercing appointment. On the way home, I stop by a pharmacy to pick up saline spray and notice that they're out of hand sanitizer. I venture to several more pharmacies and find that they too are out of hand sanitizer. I go on Amazon to buy masks and find that, they too, are out of masks. My anxiety increases. I take my bike to get fixed.
On the twelfth, a friend is supposed to headline an event. On the eleventh, he confirms that he's still coming and still up for drinks after. I text friends to see if they're still game—nobody backs out. Finally, at 6pm, the event organizers tweet that the event has been canceled, despite the fact that a number of people have already flown in from halfway around the world. I'm relieved. That night, my partner and I realize, finally, that the world is about to change. At 11pm, just an hour before closing, we head to the supermarket armed with a detailed list and a credit card. I wear a mask. We buy canned goods: Refried beans, corn, vegetables. We buy UHT milk and peanut butter, frozen chicken. For the first time, we buy a case of water. (Notably, we only buy a standard amount of toilet paper).
In those first few weeks, I can feel the solidarity through my keyboard. Friends from across the city send me hand sanitizer in the post. I send strangers money via PayPal for groceries.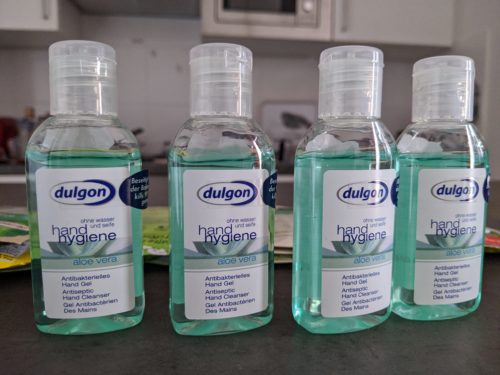 After that grocery trip I don't leave the house—save for walking the dog with my neighbor—until May 1, when a few of us bravely decide to gather in the park in defiance of the city's rules. The following week, I start taking long walks around the neighborhood and am astounded by all of the extant growth—green pops out from every corner, green that would normally be tamed, trimmed but this year is sprouting from each conceivable location. It is glorious. I document it all.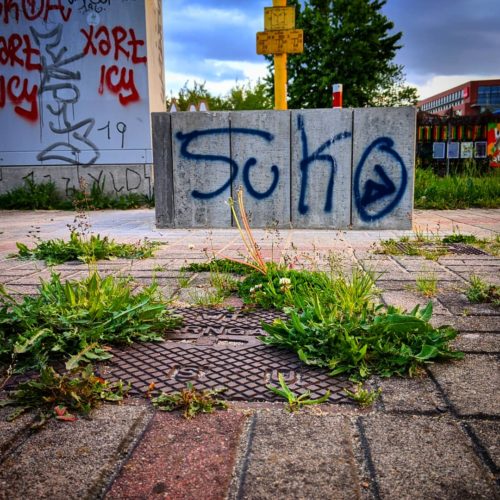 On my birthday, May 18, I host a "party" in the park and fifteen friends sit in a giant circle, each spaced two meters or more apart with a few bottles of wine and bubbly in the center. The rules are set: One must put on a mask if one must move around. At the end, when only a few of us remain in the dark night, we have a tiny dance party and it feels revolutionary.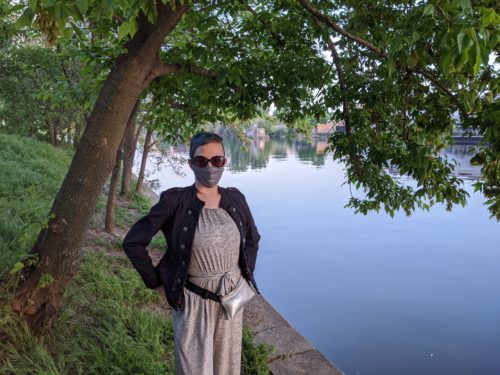 A week later, the news of George Floyd's murder hits the news and the movement for Black lives—which had always been ongoing—begin to spread even further around the world. Demonstrations kick off in the United States, and calls for a global demo on June 6 reached Berlin. I waver, due to begin immunotherapy a week later, but in the end, armed with a mask and a face shield, I make my way on foot to Alexanderplatz where protesters spread as far as the eye could see. I stand off to the side of the action with other high-risk friends, chanting and greeting others who passed. I am glad to have taken the risk.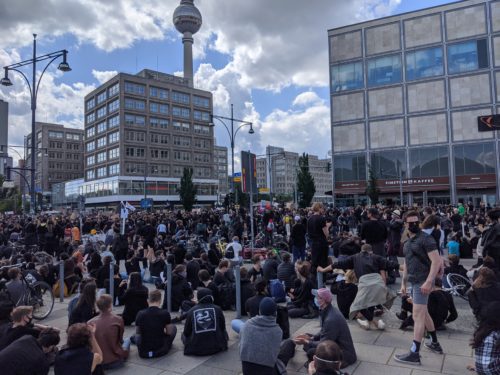 Like many places in the world, Berlin's first lockdown period was pretty successful and, by June, numbers were fairly low and restrictions were eased. On June fourth I submitted my manuscript and on June eleventh, I begin cancer treatment, followed by my first restaurant meal in months at an outdoor table far apart from any other. Soon enough, I was meeting friends at outdoor drinking spots. We gathered in parks, took long bike rides, went camping, and rented kayaks. It was an idyllic summer in which new friendships were formed and old ones strengthened. By July, I was feeling good and joined friends at a mini-festival where we danced far away from the main floor and put on masks to use the toilets. It felt normal. I felt normal.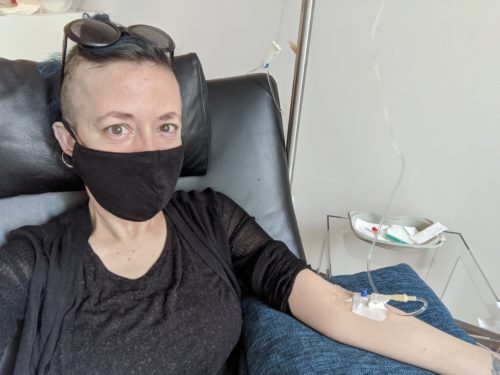 But good things never last long. On August fourth, I was on a work call when I noticed my phone lighting up a mile a minute. As soon as the call ended, I opened my messaging apps to see "Beirut :(" or similar typed hundreds of times. Fearing the worst, I opened Twitter and saw the now-infamous video of the blast, an image that will be forever seared into memory. We formed a phone tree to check on friends. We scoured Facebook and Instagram pages. By nightfall, all but one person was accounted for.
In the days that followed, I worked with a close friend in the city to form a plan for mutual aid. As it turns out, many people's phones—those delicate monsters—had been smashed in the blast, so we worked together to collect phones in Berlin and "smuggle" them to Beirut with travelers. Over the next months, I rode my bike all over the city to pick up phones from complete strangers. I received shipments from mobile phone companies to my house. The phones piled up in my living room. I felt purposeful. I barely noticed that the case numbers were beginning to rise again. I went dancing, outdoors, one last time, until the chill in the air sent me homeward. On the 5 kilometer walk home, I was met with a sense of foreboding.
Still, over the course of the next few weeks, I took more risks than ever, perhaps aware that the opportunity would soon cease. I visited a friend indoors, seated six feet apart with windows wide open. I dined out several times, always sitting at the farthest outdoor table. I booked hotel room after hotel room, eager for any last chance to get some alone time.
And then, almost as suddenly as the pandemic had begun, Berlin's numbers rose from roughly fifty per day to a hundred, then all the way to a thousand. This time, armed with KN95s and an understanding of droplets and aerosols, we found safer ways to gather: Long walks through the city, small dance parties on an empty bridge, the occasional outdoor bar. In October, the restaurants closed but we continued to meet in parks. By November, the chill in the air was brightened by strings of fairy lights, our bodies warmed by the glühwein sold outdoors. We manifested "glühwalks" but soon found that so had everyone else and—worried about the drunken crowds surrounding the outdoor stands—the city shut those down too, leaving only the shops and hair salons (two places I didn't dare enter) open.
December was long and cold. Some friends were willing to occasionally meet in parks, while others hunkered down indoors. Three of us created our very first "pod", quarantining and testing so that we could spend Christmas together. We cooked and talked and drank and opened presents. The week after was spent making the most of our pod togetherness in between lie-ins and lazy sofa time. By the time New Year's Eve came round, we were all ready for the year to end.
This narrative is just a piece of the puzzle: It leaves out the depression, the occasional despair, the countless Zoom calls. It withholds the stories of reconnection with old friends and the dissolution of other friendships. It removes the longing, the fear, but also the occasional joy and sense of accomplishment. It also leaves out the absolute burning rage I've felt all year at those whose selfishness and ignorance drove up the numbers, putting me in grave danger as my body worked to heal itself—and especially those in power who allowed, nay, encouraged such behavior.
It's going to take time to reckon with all that we've lost and all that has changed. I've been lucky not to have lost anyone to COVID-19; as lucky as one can be to not really have any extended family in orbit, that is. I've also been lucky not to have lost anyone to conspiracy theories or COVID denialism. But the year has nonetheless contained loss, even for those of us who have been lucky to retain our lives and livelihoods. We've lost our freedom of movement, we've lost potential, we've lost friends who couldn't be arsed to wear masks or stop partying. We've lost confidence, we've lost faith in leaders, we've lost some of the greats. But we can rebuild; we always do. It will take time, and fortitude, and the will to make revolutionary changes to the system, but we can rebuild.