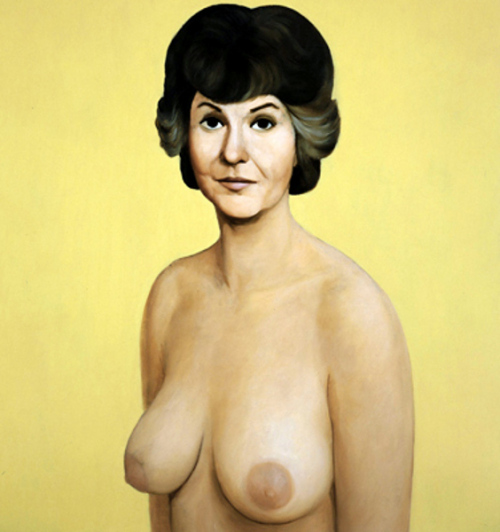 Bea Arthur had glorious tits*. Rather, Bea Arthur as imagined by John Currin—who painted this version of the actress in 1991—had exquisite tits. Educational, really. And yet Facebook, unsurprisingly, disagrees: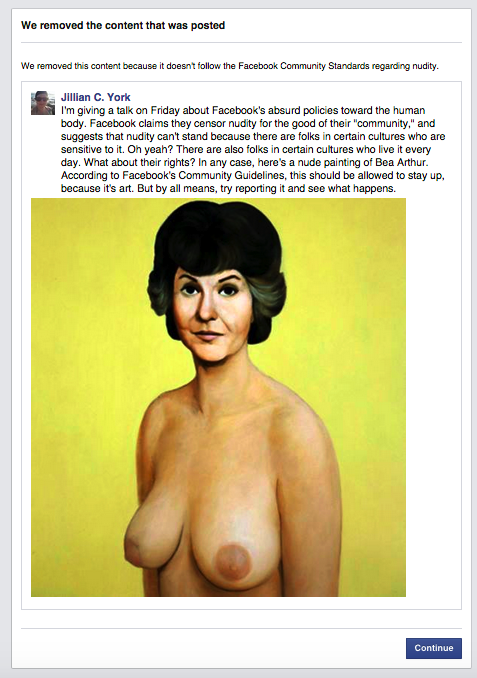 Yesterday, after spending several hours researching a talk I'm giving on Friday, I decided that I'd test Facebook's standards out for myself. After studying and writing about them for years (and years, and years), I'm pretty familiar with how things work, but I hadn't posted any nudes since the Jackie Chamoun debacle, so I figured it was time. And what better image to test things with than that of Bea Arthur's glorious tits?
I posted the image first with the caption above, explicitly asking friends to report it. At least six friends followed my instructions, and within 33 minutes (precisely), the image was taken down. I was logged out of Facebook automatically and my profile temporarily taken down (as Dalia informed me by email). When I logged back in, I was taken to the URL facebook.com/checkpoint and forced to agree not to post similar content in the future. I was then presented my own recent photos to review for inappropriate content. After clicking through, I had full access to my profile again. I was also given the opportunity to provide feedback, which I did, telling Facebook they weren't adhering to their own policy. You see, Facebook's community standards bar most nudity and female toplessness, but make exceptions for art.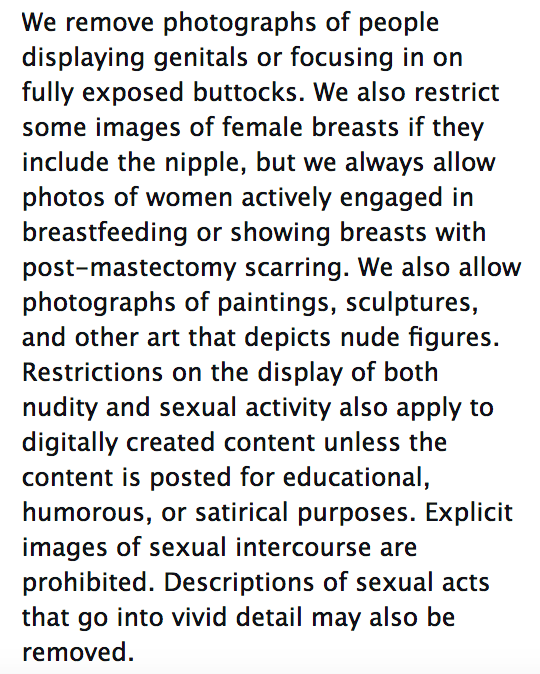 After quoting the company's own rules back to them, I decided to post Bea's tits a second time. This time, I didn't ask friends to report the image, though I knew a couple of them couldn't resist a good troll. Fortunately, the image was once again reported. But this time, this is the message I received from Facebook: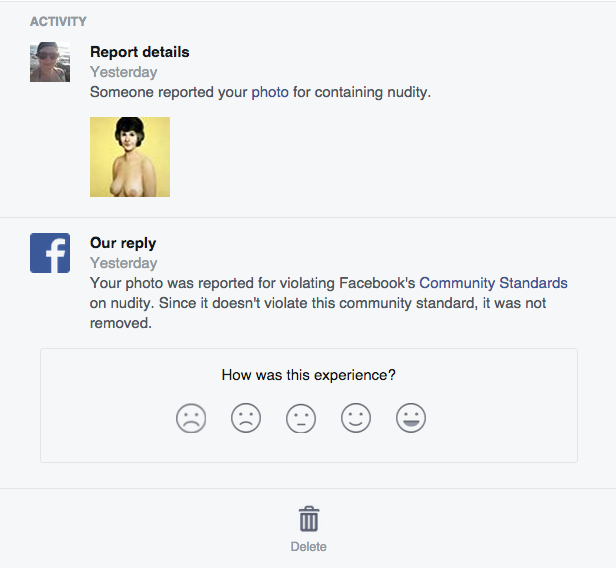 Welp. As James pointed out, consistency is impossible in censorship, and I don't disagree. I'm not so concerned about the consistency, though. Rather, what concerns me is Facebook's continuous campaign against the beautiful, natural, female body. Between Facebook and Instagram (which the former owns), we've seen menstruation, transgender women, countless pairs of titties, and a 149-year-old vagina all censored, stigmatized. Female nipples are banned, male nipples are ok (a near-direct quote from a Facebook training manual for content moderators). What are we teaching, here?
Facebook claims that banning nudity is important for keeping its "global community"** happy. Specifically, the company states: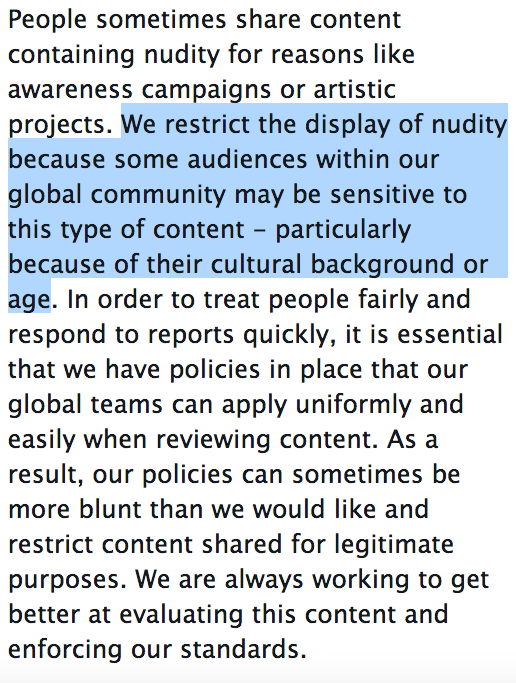 There's a lot wrong here, including the assumption that people who don't like looking at breasts want censorship. I fully accept that some people are offended by nudity. I don't understand it, mind you, but I accept it. What I don't accept is the paternalistic idea that a bunch of white male Silicon Valley bros should decide for the world what's good for them. And nevermind that only a handful of governments around the world would actually bother to block something like Bea Arthur's tits. As my colleague Cory Doctorow so aptly pointed out in an email (quoted in this post, here I paraphrase), these companies are essentially building their rules and regulations to appease the House of Saud. That might sound dramatic, but consider that—apart from China and Iran, which censor more than anyone—Saudi Arabia and its close GCC allies are the only countries I know of to censor images of breasts explicitly. I hope to have some good data soon to back that up.
But creepier than that is the why. Unlike Twitter, which faced all sorts of criticism for selling 3.75% of its shares to Saudi prince Alwaleed bin Talal but doesn't ban boobs, Facebook has no discernible economic reason for doing this. Which means that the company really believes that it's doing the right thing. Let that sink in: A bunch of conservative, paternalistic white dudes think that boobs are harmful and therefore have banned them.
I'll be talking about Bea Arthur's tits, that aforementioned 149-year-old vagina and more this Friday. If you're in Berlin, come by.
*Some folks find this word crass. I fucking love it. And as the proud owner of a voluptuous pair of titties, I will continue using it.
**Mark Zuckerberg's incessant use of the word "community" to refer to his product-customers is so gross, it warrants a separate post.