Yesterday, my dear friend Morgan re-posted the following image with this comment: "It appears that courage is a white dude thang…."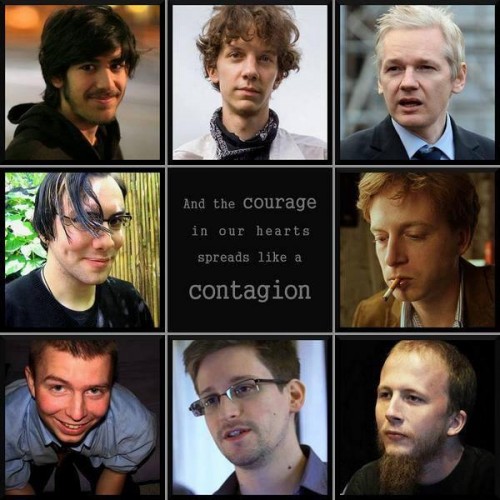 The image, initially posted by Pirate Parties International, features whistleblowers and others who have been lauded for their courage in the vague but connected realm of Internet activism. The image also only features white dudes.*
I was incredibly disheartened by the majority of comments Morgan received. While some people tried to argue that Jewish men aren't white (a valid perspective in relation to some issues, but not this one), others pointed out that Chelsea Manning is a trans woman (true, but she's not represented as a woman here). Even those that understood the problem only seemed capable of coming up with one missing woman: Laura Poitras.
The lionization of white dudes is a common, even basic, issue that's been getting a ton of attention lately, but I guess I'm still surprised when it happens in what I consider to be my own community. It's not that some of these white men aren't heroes, rather, it's that by representing courage with only white male faces, we erase the work of many other incredible and heroic whistleblowers, activists, lawyers, and hackers.
As Morgan reminded me, this is a self-perpetuating problem. White men feature and promote the work of other white men, leading to boardrooms and other spaces that look like this. Except, in this case, there are other people in the room. Hell, there are people in the Pirate Party that could've made the cut. And yet, somehow, they didn't.
In any case, we knew what we had to do. So with the photo editing assistance of the talented Marie Gutbub, we made our own version. Please share it widely.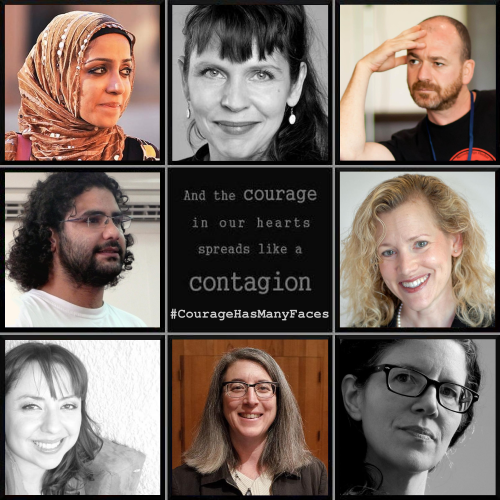 There are many talented women and people of color who deserve to be on this list. Rather than creating a rigorous process to select them, though, we instead just quickly came up with eight names. It took about one minute, demonstrating that you don't have to look very far to find heroes that aren't white men.
*Yes, I'm aware, and originally noted, that Chelsea Manning is in that image. But as you've probably noticed, Chelsea Manning is included in that image as Bradley Manning, and in a tie, a very masculine piece of attire. There are images of Chelsea available as Chelsea, but the Pirate Party folks chose to misgender her anyway posted the older image despite her transitioning. Therefore, I am not incorrect in stating that this is an image of white dudes made even more problematic by the fact that the one non-dude in it is represented as a man.
It was pointed out to me later that the image was published before Chelsea's transition was made public. The onus is still on the Pirate Party for sharing it (not only for this reason) but they're not responsible for its creation.