I'm what you'd call a very frequent traveler.  Earlier this year, I checked my mileage stats against others in my TripIt network (more on that app in a bit), and when I realized that I'd surpassed Joi Ito in miles, I knew I was out of control.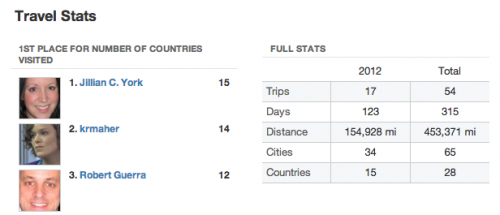 It's taken me awhile to get things down to a science, but as I'm currently on a 6-week jaunt through seven countries and three continents, I figured now was as good of a time as ever to offer up some suggestions.  So here are ten things that make my life on the road so much easier, from the must-have apps to the simplest credit card.
Looks especially nice on a tablet

TripIt – Coming in at first place is TripIt, that indispensable app that once saved me from a night in Kentucky.  How, you ask?  Well, I was attending an academic conference in Louisville when I learned that the first of my two flights had been delayed so as to cause me to miss the second flight.  Not wanting to stay in Kentucky for even a minute longer, I called United, only to have them tell me there were no available options that night.  Lucky for me, I'd recently purchased TripIt Pro (a mere $49/year, makes a great holiday gift), which offers the opportunity to check out alternative flights.  So while the United rep was claiming there was nothing to be done, I was quickly seeking out alternatives, which I presented to him, and lo!  The dumbfounded agent admitted I was right and quickly re-booked me through Denver to SFO that evening.  Bam!  Though that's the only time TripIt has saved my ass, so to speak, I use the app with every trip to keep track of my whereabouts.  Pro-tip: If your mom is like mine and always wants your itinerary, TripIt can help with that, too.
AirBnB – I admit, after those early horror stories, I was a total skeptic.  But after checking out all of Amsterdam's hotels for THNK, I realized AirBnB might be my only affordable option.  So I booked a room in someone's house, and I was not disappointed – the company got off to a rocky start, but learned its lessons and now provides stronger insurance protections for homeowners and users, plus it's built around a trust network, so you can rely on reviews and friend networks to find a place where you feel comfortable.  I've now used the site in Amsterdam and Marrakech, and have suggested it to numerous friends in numerous countries as well.  It's now my preference for longer-term travel.
The United Club Card – Though this one's really for the most frequent of travelers (it comes with a $395 annual price tag, though it's possible to get it waived or discounted for the first year – I got mine fully refunded just by asking), it's been invaluable to me.  Not only do you get more miles to the dollar (1.5 to be exact, and 2 on United purchases), but it also comes with United Club membership, insurance benefits (including lost/delayed luggage), and no foreign transaction fees.  That, for me, was the kicker: I did the math and realized that I was paying around $200 annually on such fees, which makes the $395 annual fee seem worthwhile, when you throw in the other perks.  This card's so good, even the New York Timesreviewed it. And if you're a less frequent traveler but still like the perks, the MileagePlus Explorer card (which I had for a year before switching to this one) is also pretty great.  If United isn't your airline, check out mileage cards for others…but if you're just starting out collecting miles, United really does have the best deals.
Good renter's insurance – This was a tip that Chris Soghoian gave me way back in the day, and though I didn't think I'd need most of the perks he mentioned, I got it anyway…and I've been so glad.  Renter's (or homeowner's, as the case may be) insurance is invaluable anyway (last year, I got a theft of laundry from the laundromat covered, and just a few weeks ago, my stolen bike), but good renter's insurance will also cover lost or delayed luggage.  I have USAA, which is only accessible to those grandfathered in through military family members (in this case, a grandfather), but there are plenty of good, affordable choices available out there.
Packing cubes – I have a frequent-traveler friend (you know who you are) whose suitcase makes me want to cry.  It's dirty shoes piled on top of clean clothes, with toiletries stuffed in between…a type A nightmare.  I, on the other hand, cannot deal with a messy suitcase and so I took someone's

I keep six of these in my suitcase

advice and hooked myself up with a slew of packing cubes (I have the set previously linked, plus one of these, and these shoe bags), which has made my life so much more organized, and my suitcase so much easier to close.  And speaking of suitcases…

A good, hardshell suitcase – This is a tip I got from Robert Guerra who, despite coming in third this year for countries traveled, is a seasoned traveler whose suit never looks wrinkled.  Though some may recommend top-of-the-line stuff, I feel that Samsonite's warranty does just fine.  And while even their top line suitcases can get expensive, I found a great deal on a Crusair (still available here) with latches instead of a zipper, and a built-in lock for $200.  Highly recommended.
A universal SIM – This advice doesn't apply to you AT&T suckers, but the rest of you could benefit from it.  Instead of racking up huge fees on your US mobile subscription, picking up a local SIM will save you a ton of money (note: T-Mobile will unlock your phone after 3 months of being a subscriber, but these days it's easy to purchase an Android directly from Google or Amazon, unlocked).  But if you travel a lot, you know that buying a local SIM in each country can be a bit of a pain.  Personally, I've had the best luck with Telestial (which gives you a Euro number but also allows call forwarding from your US number), but there are plenty of others to choose from.
A universal adapter kit – This past week, traveling with a well-traveled but relatively infrequent traveler, I watched her frustration as she tried to fit her perfectly normal Euro plug into the slightly modified Moroccan outlets.  It was a small difference (the actual prongs are the same, the outlet is slightly different in shape), but one that caused frustration as we switched back and forth between charging her phone and my laptop, before finally picking up a new one in the souk.  I also used to carry a couple European adapters around with me until I discovered Brookstone's universal kit.  It's a bit pricey, but I've never found a country in which it doesn't work, and I loan it out to traveling friends whenever I'm not using it.  Excellent bang for your buck.
Travel detergents – This is for those really long jaunts, like the one I'm on.  While I prefer, of course, to wash stuff in a machine or have it dry cleaned, sometimes that's just not an option.  So when the need arises, I prefer to use a gentle soap rather than just buy a mini-pack of a harsh detergent like Tide, as I feel like the gentle handwashing detergents rinse out better when you don't have a machine.  My favorite (which I also use at home for handwashing) is Forever New, but I also keep a packet of these in my suitcase at all times…because you never know.
A proper, but tiny, first-aid kit – I used to think this was frivolous, until I found out that there are countries where you can't get Sudafed without a prescription (WTF?)  Mine is hand-curated, and contains quality band-aids, DayQuil/NyQuil (read: pseudoephedrine, a total necessity for flying with a cold, to avoid painful ear pressure), all varieties of stomach-related meds, paracetemol, and one course of anti-biotics.  Somewhat surprisingly, you're usually better off finding these things in developing countries (i.e., in Morocco, all of those meds are available over the counter), but things like bandages can be of lesser quality, whereas in the Netherlands, bandages are superb but you can't buy pseudoephedrine without a prescription.
And here are a few other, mostly somewhat feminine, things I can't live without: