A few nights ago, while browsing Wikipedia (as you do), I stumbled upon their latest contest: Wiki Loves Monuments and after a few minutes of perusal, it occurred to me: Why not photograph my hometown as a contribution?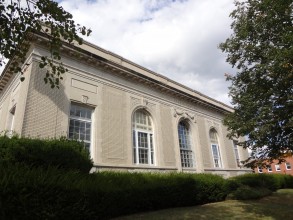 As it happens, I'm currently visiting my mother in lovely Dover, New Hampshire, a city originally settled in 1623 and incorporated in 1855 and full of monuments. Luckily, my mother loved the idea (and had a camera), so we set out yesterday to photograph our little town. And photograph we did! We have now taken a picture of every monument in Dover except for one because, despite being on the National Historic Registry, it's been gone since the 1970s. And I don't think Wiki loves photos of empty spaces.
So, last night, whilst uploading my many photos, I noticed that the competition is actually international. And as I happen to travel a little bit—even though the contest ends in September—I'm going to make it a point over the next month of travel to try photographing my surroundings a bit more (I'd gotten a little photo-weary and seem only to come home with snaps of friends these days).
So, a little more on our process. With my mother driving, we set out with the Wiki Loves Monuments app and hit the town. Unfortunately, the app is based on MapQuest/OpenStreetMaps and is therefore ridiculous. Look, I get it – you want Google alternatives. But when you're dealing with small towns, these maps are outdated and sometimes flatout wrong. One of the streets presented on the app had its name changed a good 15 years ago, for example.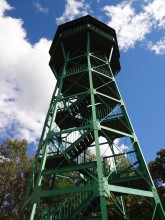 Nevertheless, it gave us a good starting point and so once we'd gotten a sense of the layout of our town's monuments, we switched to the list view and relied on my mom's sense of navigation (which, I must say, is quite good). First, we hit up the Garrison Hill Tower, which you can see above. Aside from being a wonderful lookout point from which—a clear day—you can see Maine, New Hampshire and Vermont, it's also (obvs) the city's main makeout point and many a teenager in my day got busted for that.
Next, we headed to the Sawyer Building, which was mislabeled on the map and which has never, in our recollection, been referred to as the Sawyer Building. After both of us consulting our phones whilst sitting in the Janetos parking lot, we determined that the building now housing a Days Inn must be of historic value, because there's no other building there. May have been a miss.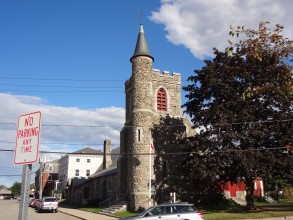 Following that, we stumbled across a new jewelry store and proceeded to waste a good hour before moving on to our next target (hey, it's all about discovery!), one of my favorite Dover buildings: The St. Thomas Episcopal Church, which is situated kitty-corner from where I went to junior high school. It always reminded me of a castle, as you can probably tell.
After that, it was straight building-hunting for old houses—now either private residences, or in one place, a chiropractic office—we'd never heard of, with a little detour to photograph my other favorite Dover building, the beaux-arts post office seen above (sadly, that's the best shot you can get from the front – we like our trees!). It's still a working post office, too!
All in all, a most excellent adventure and one I'm keen to repeat. Anyone fancy a drive to Merced?