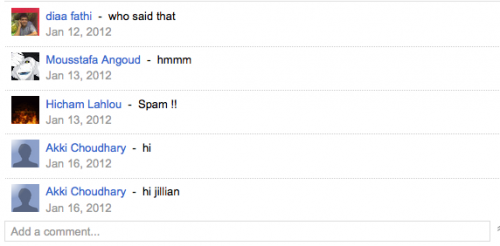 I joined Google+ before it rolled out to the public last year, in its initial trial. At first, I was pretty excited: In the beginning, my fellow Plussers (for lack of a better term) were mostly San Franciscans, geeks, journalists, and policy wonks, and for a few weeks it felt like some weird elite playground (or a first class airport lounge). Once the platform opened up to the public, it was still fun for a little while, and as you know, I was flattered to be added to Google+'s "recommended users list," not least because it gave me a taller pedestal from which to shout about digital rights.
And then the #nymwars happened. And while I've always been staunchly in favor of online anonymity, I tried for awhile to see it from the other side. Except, as my following on Google+ grew, it became more and more difficult. Why? Well, here's the thing:
People with "real" names say lots of stupid stuff too.

With over 450,000 followers, you're sure to get some spam and nonsense. But what I've found is that, on Google+, most of my comments are spam and nonsense, despite the fact that I've spotted myself in the circles of some pretty great people. More notably? Most of the nonsense comes from people with "name-shaped" names, be they "real" or otherwise.
Last week, Google+ announced two new things: The first, support for pseudonymous people with a significant following, to even out the criticism that "Snoop Dogg gets to use a pseudonym but fairly well-known hackers/artists/geeks don't." This is great news for those folks, but most of those folks aren't too secretive about their identities. We're talking Xeni Jardin and Violet Blue, not Chinese dissidents.
The second thing is that people with "name-shaped pseudonyms" will no longer have to go through the rigamarole of Google's name appeals process. This is great too, and here's why: I used to criticize Facebook's real name policy by saying that it was unevenly applied, in that famous folks like Michael Anti would get removed while hundreds of Santa Clauses were allowed to remain. Now, on Google+ anyway, a Michael Anti (a "name-shaped pseudonym") can stay up, but JoeSchmo1657 probably can't.
Now, this does indeed solve my biggest pseudonym concern, which is that dissidents/activists often need a level of pseudonymity to remain safe online. So that's good. But my views on anonymity–which shifted a bit last year when tested by Google+–have become more militant of late, and here's why:
There are hundreds of thousands of people, using either their "real" names or "name-shaped pseudonyms," that are providing little to no value to my network.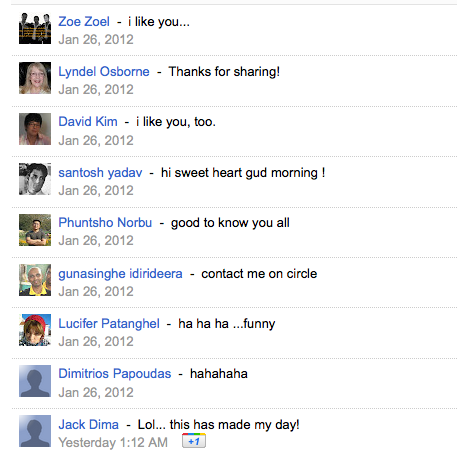 The above represents a good day. On a bad day, the comments are filled with spam, sexual harassment, and other nonsense. And sure, I could stop posting publicly, but what's the point of having 489,000 followers if you don't share with them?
What this demonstrates, to me, is that Google really has no reason not to allow JoeSchmo1576 and HaCkeRdUdE from starting up accounts. What Google is trying to do isn't "maintain civility." It's trying not to be MySpace. It's not a matter of behavior, it's a matter of aesthetic. So long as you "look like a name," you're fine.
Except I'm not. I'm allegedly one of your most valued users and I'm unhappy with your service. It's bringing attention to my work and EFF's work for sure, and I thank you for that Google, but it's not giving me any personal enjoyment…for that, I continue to turn to Facebook and Twitter.