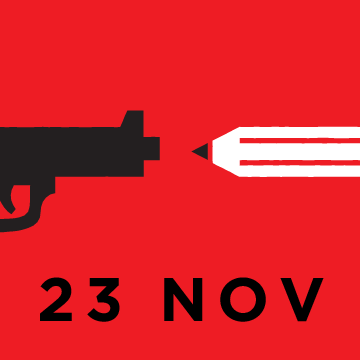 I have temporarily changed my Twitter icon from #FreeAlaa to the image on the left, which has resulted in a number of questions from people wondering what I'm advocating now. And so I'll tell you:
Wednesday is the International Day to End Impunity. Though this is not an issue that I work on myself, as an advocate for free expression, I am well aware of the effects of impunity on journalists and bloggers: fear, self-censorship, silence. To that end, I'm here to support the initiative by the International Freedom of Expression Exchange (IFEX) tomorrow. I was at the IFEX meeting in Beirut earlier this year during which it was decided to hold a day to end impunity; I listened to experienced folks from organizations like CPJ talk about some of the cases laid out below, and perhaps most tragically, heard the story of Pakistani journalist Saleem Shahzad, who was murdered during the IFEX event.
You can too. IFEX has laid out numerous ways to get involved and take action, from writing to demand investigations of more than 23 cases, to sponsoring a poster contest to continue raising awareness of the issue. If you're short on time, the one simple thing you can do is tweet or otherwise post and raise awareness about November 23, the International Day to End Impunity.
"The day will be a platform… to demand that journalists' killers do not go free, and to ensure that our colleagues working in countries with continuous and rampant impunity feel that their work is valued and their life is treasured," said the Committee to Protect Journalists (CPJ).
Here are a variety of links you can share:
Committee to Protect Journalists' 2011 Impunity Index
International Day to End Impunity Campaign
International Day to End Impunity Poster Contest
Campaign Facebook page