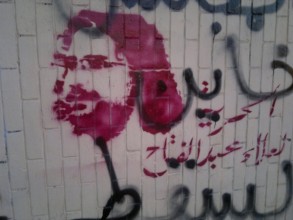 On Sunday, Alaa's detention was extended by another 15 days. At this point, the United Nations, Amnesty International, and countless other advocacy groups (including the EFF) have called for the release of Alaa, as well as others unjustly imprisoned by Egypt's ruling military council. There are also numerous groups in the US and Europe actively pressuring governments to use their weight to ensure their release.
I continue to be angered, as well as disheartened, by the US government's lack of action. I have no doubt that the State Department is working behind the scenes on this, as they do on many things, but with Clinton making public statements about opposing "conditionality" of aid to Egypt, State's background work is, frankly, useless. Furthermore, if backdoor attempts are focused entirely on Alaa, and not on the bigger picture, then they're going entirely against everything he stands for.
Congress needs to be pressured at this point for any real action (read: withdrawal of funding for the Egyptian military), and while I know some folks are working on this, we need to speak out louder. We, as individuals, need to start calling our representatives.
Once again, some links:
Look who you've grown into ya Alaa :)

While 'just being good' is what drives Alaa to be brave; what drives me , certainly is being surrounded by family and friends and the bubble of trueness of intent that they create. I've been lucky these last 6 years as my life has been a constant production and reproduction and affirmation and reaffirmation, that all that is ideal can be real, and all that is good is possible and all around us.

I cannot begin to describe what it means to be in a revolution with your husband, your brother, your father, your mother, your aunt, your cousins. Death shrinks in insignificance. And the risks you take you internalize, and they become you, and part of all your lives. Needless to say, bravery, legitimacy, protest, chanting, revolution it all, all becomes about love. All the love you've ever felt or wanted to feel floats out of you and binds us all as 'us'.

I can't begin to imagine that Khaled has been conceived of this :) And that he will be born into a world of ideals, the best time of our lives, where all our focus and all our energies are focused unto being good, and proving that this IS a world where we will be.