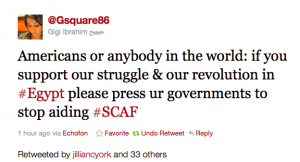 Last week, Alaa Abd El Fattah was staying at my house, playing with all of the toys and things (and the enormous all-terrain stroller he's taken to referring to as Khaled's SUV) he and his wife, Manal had sent to our house and today he's in prison.
When he arrived at my house last Monday, the news had just broke in Egypt–while he was on the plane–that he was going to be interrogated.  Some asshole had uploaded a video of him from October 9, the day of the Maspero massacre, claiming that Alaa had incited violence. Despite that and the requisite nervous phone calls, he managed to explore the city, sharing his knowledge with Occupy Oakland demonstrators and hanging out with us in the Mission, on top of–of course–his participation in the Silicon Valley Human Rights Summit.
From the details I've managed to piece together so far, he went in this morning for the interrogation, refused to answer the military's questions, refused to grant them legitimacy, and was thus detained for 15 days.  At this point, I'd like to provide a reminder that the Egyptian military, which has tried more than 12,000 civilians since January, has received approximately $1.9 billion of US taxpayer money since 1979.  This is, obviously, unacceptable.
I've wanted to be hopeful for Egypt.   Alaa has been hopeful for Egypt, despite his intimate knowledge of the system.  Right now, I feel helpless.
What I want–in solidarity with my Egyptian friends–is an end to emergency law and an end to military trials in Egypt.  This is not justice, this is not democracy.  This is not different from the Mubarak dictatorship.  This is not okay.