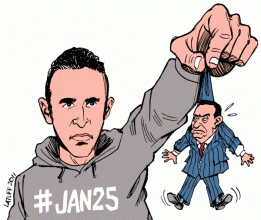 Brazilian activist cartoonist Carlos Latuff, whose work has been regularly featured on Global Voices, particularly throughout the 'Arab Spring,' starts the Brazilian panel thanking his country for "bringing Latin America here," stating that Brazil tends to turn its back on the rest of Latin America.
"In the Arab Spring," says Latuff, "I've used Twitter heavily to communicate with people in Egypt. It was great getting to know [fellow conference attendee Ahmed Bahgat]. Most people in Brazil don't even know what SCAF [Egypt's Supreme Council of Armed Forces] is." Latuff then thanks Bahgat for attending, in English.
"Twitter, just like Facebook, is an instrument or a tool, just like the Internet is just a tool, just like a Molotov cocktail or a mobile phone is a tool – and people use the Internet to accomplish their goals. In 1996, I was sending drawings by fax to Mexico, in 1999 I was in Palestine, which was my defining experience; from then until today, I've worked mostly on Palestine. And with the advent of Twitter, something incredible happened: When the protests in Tunisia exploded and when Ben Ali was taken out of office, the people there asked for drawings, but Ben Ali had already fallen."
"People in Palestine contacted me before the protests in Egypt and requested I draw cartoons for them. I was afraid that the Egyptian authorities were going to kill them all. But on the 25th, protests began, and the cartoons I had drawn were often printed and shared during protests. It gave me the confidence that I was producing artwork that has relevance for people. This is what leaves me the happiest as an artist."
"People say I'm an activist and not a cartoonist, as if those things couldn't come together," says Latuff. "I don't care about being promoted as an artist – even if people removed my name, I'd still be happy. I'm not interested in money; anyone can reproduce my cartoons."
"I have 50,000 Twitter followers, and many of them are from Egypt. No one knows me in Brazil; it's amazing how many Egyptian press interviews I've done," says the cartoonist. "To me, this is amazing."
Note: Latuff's talk simultaneously translated from Portuguese, and thus quotes are imperfect.