I just published a post over on Global Voices with the same headline, specifically quoting Syrian opposition and their supporters, who have been attempting to trend the #RamadanMassacre hashtag today. In looking for tweets using the hashtag, I came across one from Andy Carvin that got me thinking. Can Twitter prevent a massacre?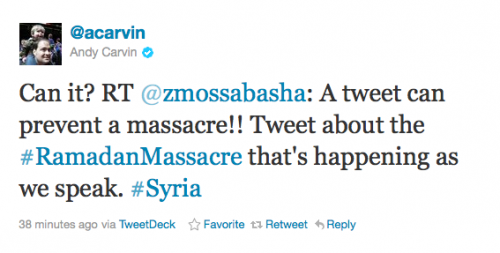 I know I'm not the first person to ask this question. At conferences this year, I've heard rumblings along the lines of "What if Twitter had existed in 1995?", the year of the Srebrenica massacre. Or in 1994, the year of the Rwandan genocide. Ignoring obvious questions of mobile and Internet penetration, would it have made a difference if Bosniaks had taken out their cell phones and tweeted, or if Tutsis had taken to their laptops and uploaded videos of the massacres?
Hard to say.
What we're seeing in Syria right now is a war of words online, in which protesters and opposition figures face off against regime supporters, attempting to articulate their own narratives about what's happening inside the country. And without many journalists on the ground, it's difficult to determine the facts. We know that the regime has killed innocent, unarmed civilians, but have opposition forces taken up arms? And what do the majority of Syrians really think? Do they want foreign intervention or regime change, or reforms?
With Internet penetration around 20% and mobile subscriptions close to 60%, Twitter users are certainly a minority. And yet the overwhelming majority of tweets from inside the country speak to a desire for the regime to go. More to the point, Twitter is rife with reporting from inside Syria, with activists and citizen reporters alike posting videos, photos, and other content truly damning to the regime.
But does it matter? Can it help change anything? Or are we 'witnessing' for the sake of it, condemned to helplessness?
Along that line of thinking is Mark Belinsky's SXSW panel from earlier this year, "Tweets from 9/11." The idea is obvious: Had Twitter existed ten years ago, would events have changed at all, or would their aftermath have been different?
The key, I think, is in the second part of the question. Indeed, the aftermath of events would have been different. We would have had a more accurate assessment of what exactly went on inside those planes in their final minutes, and the possible ramifications of that information are endless.
And so, and sadly, perhaps that's our limit now. Questions still exist around the specifics of the 1982 Hama Massacre. By 'witnessing' the current events in Syria, and documenting them in real time, perhaps we are able to influence their eventual outcome, if only after the fact.