In early February, Bahrain–like numerous countries in the region–caught revolution fever. Protesters took over the Pearl Roundabout in the capital, Manama, demanding reform, from February 14 to 17 until, on the last day, police stormed the Roundabout, killing seven and clearing the scene. Still, the protesters returned again and again. On March 3, clashes between the government and protesters (which media reported as sectarian, between the Sunni minority and Shi'a majority), furthered tensions. Just a few weeks later, Saudi troops entered the country, and the Roundabout monument–an icon in Bahrain–was dismantled.
As the street protests have died down–or rather, have been stifled–clashes have moved into the online space, with opposition and regime loyalists vying for the media's attention. The opposition has been largely successful in using digital tools to get the attention of human rights organizations, as well as journalists. One journalist to take note early on was the New York Times' Nick Kristof who, after tweeting his experiences from the ground in Bahrain, was bombarded with tweets from Bahrainis who opposed the protests. Thus began a Twitter war.
I've watched journalists such as the Voice of America's Cecily Hilleary and my good friend Amira Hussaini (who wrote about her experience here) fall victim to the Twitter regime loyalists.
Last weekend, I became the latest victim of the Bahraini Twitter war after I came across some tweets which claimed that I was behind a website called "Human Rights for Bahrain." As it turned out, the website had copied and pasted several of my articles from Global Voices, about Bahraini bloggers who had been detained, causing people to believe I was the force behind the entire site (I assure you, I'm not).
Truthfully, I've been largely quiet on Bahrain. I tweet the occasional article, and I retweet friends in the country whom I trust, but the truth is, I simply don't know or understand enough of Bahrain's politics to be truly involved. And yet, as an advocate for human rights and free expression, I can't remain quiet as journalists and bloggers are silenced for speaking out.
In any case, last Sunday, I was targeted by one Bahraini who decided to start a campaign to "educate" me about "the real situation in Bahrain." Within a few minutes, I was bombarded with tweets, many from people who assumed that I supported the Bahraini opposition or that I was in fact behind the aforementioned website. While the woman who started the campaign remained polite, not everyone did. By the end of the day, I had over one hundred and fifty new followers, the majority in Bahrain.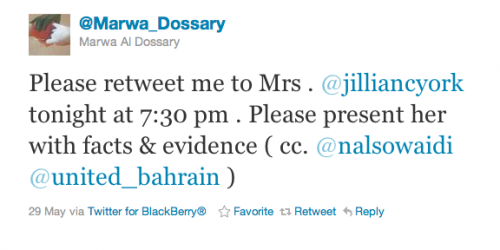 As I've learned, I'm not even close to being the only target. These regime loyalists (frankly, for lack of a better term) are also targeting human rights groups on Twitter, as well as fellow Bahrainis who support the protests or who at some level have spoken up against the ongoing detentions of journalists and doctors. One friend in the country tells me that the majority of the individuals targeting me on Twitter appear to be part of the royal family or otherwise associated with the government. That same friend also says, "It's not really about Sunni or Shi'a, it's about maintaining the status quo."
Nevertheless, some of the individuals on Twitter have also targeted Shi'a:


Others make extraordinary claims about what the opposition believes:
I had put the incident behind me until this morning when, at the IFEX (International Freedom of Expression eXchange) meeting I'm currently attending in Beirut, it was noted that Maryam Al Khawaja, who has been instrumental to Bahrain's opposition, was meant to be speaking on the panel but couldn't come. When I tweeted something a panelist said in her absence (Literally: "Panelist is now talking about #Bahrain, which has been "neglected and subject to a media blackout. #ifex11) I was once again bombarded, this time with insults slung at Maryam and her colleague Nabeel Rajab, who was detained and released in the past 24 hours.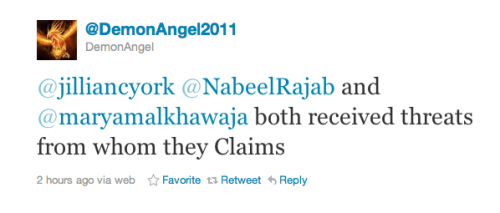 Scores of others have called the protesters "terrorists." Many blame them for the violence handed out by the Bahraini authorities and invited Saudi military. They are disparaged, across online platforms, as having "ruined" Bahrain.
As I said, I cannot speak for Bahrain; I do not know whether it is better to protest in the street or to attempt dialogue, nor can I begin to make assumptions about what form of government should prevail. Mahmood Al-Yousif, one of the bloggers arrested last month whom I wrote about, has shared his thoughts on this, and I think that they're reasonable. He writes:
But, danger is in the offing. If people take it into their heads to confront the regime one more time, if they needlessly attempt to go out and re-occupy the erstwhile Pearl Roundabout, then in all probability they will once again be met with force which might result in loss of life, injury or at best incarceration. The indications from online forums and Facebook pages suggests that some are determined to tread that path, folly as it is. For the sake of Bahrain, I hope cooler minds prevail, and a very much restricted and proportional use of force is employed, if required to restore the peace.
Whatever the outcomes, the truth remains: 29 are dead. Four died after being tortured in prison. Bloggers have been arrested, as have scores of doctors. While there are numerous ways to reconcile the country and come to a positive solution, the facts must not be swept under the rug. And no amount of propaganda on Twitter will silence the truth.