Yesterday, I mentioned in a post the importance of talking about tech companies not only when they do poorly, but also when they do right. In that post, I mentioned how Twitter has shied from moderating content on their platform even in the most contentious of circumstances, showing their dedication to free expression online. There are numerous other examples: YouTube's dedication to leaving up violent content when it constitutes news (particularly relevant in the recent uprisings across the Arab world) is a good one. And while I disagree with Flickr's decision vis-a-vis Hossam El-Hamalawy's uploading of photos from Amn El Dawla, I appreciate Yahoo!'s thoughtfulness in evaluating their policies after the fact.
Recently, the Electronic Frontier Foundation (aka my soon-to-be-employer) released a report evaluating transparency and privacy practices of the most popular online companies. The easy-to-read format of the report shows Google coming out on top, which doesn't surprise me: The tech giant has made a valiant effort to make users aware of government requests for data, as well as government-initiated content takedowns. Twitter appears to be doing a great job as well, which doesn't surprise me. On the other hand, the absence of Skype betrays a narrative of it being a "safe tool" (something that privacy experts have long known not to be true).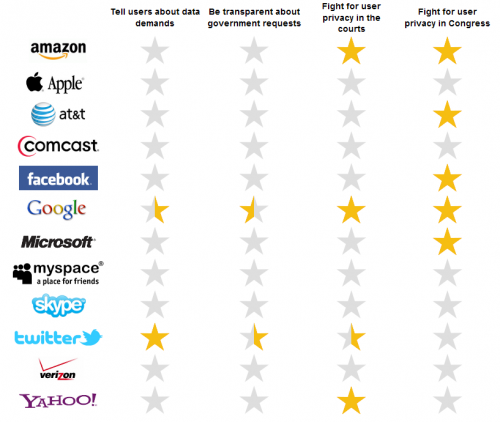 Though the report is thorough in dealing with privacy and transparency, I would love to see a similar report on how the same companies rank when it comes to censoring user content (hey, maybe that'll be my first project!). I would imagine we'd see Twitter somewhere near the top, and Facebook just about dead last.