I'm in Berlin for re:publica 2011, a conference I've been wanting to go to for at least two years and which I was invited to speak at this year. When organizer Markus Beckedahl contacted me in January to speak, he was excited about my September 2010 paper, Policing Content in the Quasi-Public Sphere. Just a week into the Tunisia uprising, the paper was about to see a resurgence in relevance as activists there and in Egypt would face account deactivations for using pseudonyms, posting graphic videos, and "spamming" users with information.
Though video of the talk won't be online for a couple of weeks, I was pretty proud of how it went, and the tweetstream that followed reinforced my feeling. Oddly enough, I couldn't see my notes and had to "wing it" – luckily, I'd spent so much time typing them up (and speaking about this topic) that it turned out I didn't really need them after all.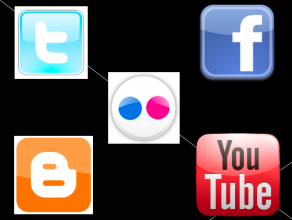 I took the audience through the five examples in the paper (Twitter, Blogspot, Facebook, YouTube, Flickr), focusing on the latter three and their particular importance to Egyptian and Tunisian uprisings. Examples included the takedown in November 2010 of the "We Are All Khaled Said" Facebook page, the freezing of the Sayeb Sala7 page for being "generic", the removal of Hossam Hamalawy's Flickr photos of Egyptian security forces, and YouTube's policy of placing an interstitial warning page on graphic videos (a policy I actually don't mind).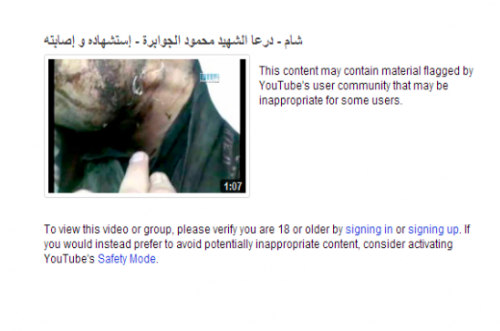 I also talked about why this all matters; that the Internet is our public sphere, our town square, except that it's global, and definitively the only global forum for our modern world. It is certainly the only forum that just about anyone can participate, despite remaining barriers to access for many. And yet, it's decentralized, owned by private companies whose bottom line is money, not free expression.
And even still, "decentralized" is almost the wrong term, as Facebook increasingly resembles a monopoly. Facebook has no competitors: Diaspora is tiny, Orkut is big only in Brazil and India (and even in India, Facebook is taking over). You can take your speech elsewhere, surely, but there's no telling if anyone will follow you, or listen. Facebook is important, it's where the network is. That's why it's all the more important that we, its users, act like consumers and stop staying quiet when it breaches our confidence, our privacy, our safety, or our rights.
Lately, I've been getting a lot of questions as to why I'm more outspoken about Facebook than say, Flickr (which has surely breached users' confidence) or YouTube. My main response is this: Both are important sites, and the most popular of their kind. And yet, both have plenty of competitors. The networks on each exists but are de-emphasized; when you post something on YouTube or Flickr, you expect a large part of your traffic to come from external sites: Facebook, Twitter, blogs. You can take it elsewhere, without much suffering. Facebook is assuredly different.
I will be sure to share the talk with you when it's online: It was fun, I got a few laughs (a great coup in the German tech space, I'm told), and it was illustrated by Anna Lena Schiller. I will also do my best to blog a couple of other sessions (Noha Atef is speaking later today on Egyptian social media stories; a topic which will surely be relevant to my own work).
Addition: Slides from my presentation are below.