I'm not going to blog about what's going on in Gaza other than to say this: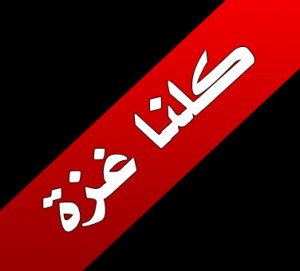 …and that my heart and my prayers are with the people of Gaza right now.  We are all Gaza.
What I will do, however, is direct my readers to a number of sources offering information.  I cannot vouch for it all, and some of it I disagree with myself, but the key to peace is understanding, the key to understanding is knowledge, and the key to knowledge is information, so dig in:
Global Voices Gaza Special Coverage Page: Responses from bloggers in Palestine, Israel, Syria, Iran, and more.
#gaza hashtag on Twitter: Follow #gaza for intentional updates on the current situation.  Also check out Twiddleeast.com for a Middle East Twitter aggregator, and my instructional post on Global Voices for tracking Gaza discussion on Twitter.
Electronic Intifada: Absolutely pro-Palestine, but one of the most reliable and fairly mainstream sources to be such.
Livestation.com: Providing the ability to watch Al Jazeera English, France24, EuroNews, and other fantastic international news sites.  As you may already know, the U.S. zionist lobby bans AJ English from cable TV.
Check back for more updates; I will continue to provide news links, but none of my own commentary…at least not yet.