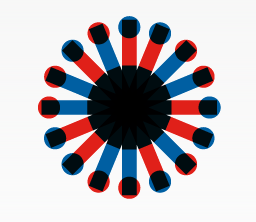 Consider the above a bit tongue-in-cheek, though given how close to myself I feel at the current moment, I'd say it's not that far off.  A bit of context:
I just spent the past week attending the first 'module' of THNK, the Amsterdam School of Creative Leadership.  Sometime back in March, just as my good friend Katherine Maher, a founding participant in the program, was finishing up her first module there, she connected me with the program's recruiter, thus starting my journey.  Aside from hammering out logistics, it didn't take long for me to say yes.  Before I proceed, here's an official blurb about the program:
THNK is the Amsterdam School for Creative Leadership.  It provides an 18 months, part-time, post graduate program for a carefully selected group of international top talent.  Participants are active in social entrepreneurship, commercial entrepreneurship or business innovation.  The program focuses on further developing participants as creative leaders by immersing them in the major challenges of our world and helping them understand and use technology breakthroughs and socio-economic developments for positive change.  THNK participants engage in real life projects with corporate partners and NGO's to find creative solutions on large societal topics, e.g.  future of mobile data or sustainable airports.  Each participant also embarks on an individualized creative leadership development program with continuous professional coaching. The program alternates between intensive weeks spent on campus in Amsterdam and a major individual challenge completed on the job.
As I'm just starting out, I won't reveal too much about the latter portion: to be honest, I'm still figuring out what it is I'll bring from my program to the job.  What I'm struck by this early in the game, anyway, is two things: 1) THNK's ability to bring a set of truly magnificent global leaders to the table and 2) how intensely I'm able to see myself after just a week there.
To the former…Check out the current class of participants, or if you're too lazy, here's a sentence: They are from more than a dozen countries and more than thirty fields.  They range in age from 30 to well past that ;)  They are all leaders.  But more interesting to me than their bios, of course, was discovering them as individuals.  The way a person with 20+ years under their belt can commiserate with a younger participant over a certain insecurity, or how a police officer and someone who works in technology policy can connect over an issue at work.  I'm no stranger to greatness: Global Voices has brought me close to environments like this and such inspirational people before, but what makes THNK unique is that its participants are all faced with similar challenges at a particular stage in their lives…that levels the playing field in such a unique way.
As to the introspection, I think I'll need to save that for a later post.  I've spent a week being observed, coached, thrown into a new academic and social situation and came out the other end a better person for it.  I'm feeling a bit exhausted and perhaps even lonely ("hung over" was how Katherine described it, and it seems apt), but invigorated as well.  At the same time, my hands were given a rest from typing for almost 9 days and using them today is a bit painful…so alas, I shall regale you with tales of my learning another time.
If you're interested in learning more about THNK, dear reader, I'd be happy to share more over email.